TO THE LIMITS OF THE SOUL'S IDEAL:
AN HISTORIAN'S VIEW OF
JOSHUA LAWRENCE CHAMBERLAIN
A SPECIAL NOTE OF THANKS
The man who wrote the eloquent tribute below was a friend I admired and respected very much: the late Civil War historian Brian Pohanka. He helped me immensely with my own knowledge of the Civil War--through his appearances on the History Channel's "Civil War Journal" and his eloquent writing for the "Time-Life Civil War Series", and the books "Distant Thunder", "The Civil War: An Aerial Portrait" and "Don Troiani's Civil War".
He was always gracious and patient with me, when I wrote him with questions on the Civil War. And he always emphasized to me that one should never forget to honor the brave men, North AND South, who fought and died in this terrible war; that THEY are the ones most deserving of remembrance!
MANY THANKS, BRIAN -- I WILL NEVER FORGET YOU!

"Many know of Joshua Lawrence Chamberlain only through Michael Shaara's novel, "The Killer Angels", or the film based on that book, "Gettysburg". Chamberlain has become something of a Civil War "cult figure" as a result -- hailed as the hero of Little Round Top -- and established as one of the most popular and revered personalities of our nation's bloodiest conflict. That so many have been drawn to admire Chamberlain through novel and film is not necessarily a bad thing, though this very exaltation has spawned a reaction from some whose inherent cynicism drives them to scorn Chamberlain and attempt to diminish his deeds. Those perverse and gnomelike efforts are certainly doomed to fail, but it is well to remind Chamberlain's devoted admirers that to celebrate him principally for his service at Gettysburg is to miss much of his true greatness.
"Read his words, those of you who feel drawn to this hero, for they are words of fire that speak to the soul. While we cannot listen to his impassioned speeches, he was, by most accounts, a magnificent orator. One who heard Chamberlain lecture reported, "His words are suffused with a certain poetical idealism, and in religious conceptions with a spirituality almost mystical". (1) This, I believe, touches upon the essence of Chamberlain's message -- to his contemporaries, and to us today.
"Truly, Chamberlain's was a deeply spiritual, almost mystical philosophy. He believed with all his heart that there were deeds worth daring, and suffering worth enduring, and lives worth giving -- for ideals that were "dimly seen, but dearly held".(2) That the devotion of those who were willing to risk and give all for what they held sacred entailed a transcendence of self -- "a way of losing that is finding". (3) And, that the legacy of that sacrifice, and that transcendence would speak to future generations. A battlefield like Gettysburg was not just a place to study the tactical maneuvers that had occurred there, or to lay a wreath upon a memorial stone: it was "a vision-place of souls", (4) a place"beyond the touch of time";(5) for the message was timeless, and the idealism inherent there was immortal.
"This undercurrent of spirituality, complex as it is, was very much a part of Chamberlain's personality, and vital to the philosophy that lay behind his battlefield deeds and that motivated his life's work. Some may be baffled by it, fewer -- to their own loss -- may even scorn it; but I think that those of us who do revere Chamberlain are drawn by the timeless power of his message. And it is for us to carry that great truth onward -- in our hearts, our lives, our souls -- remembering, "it is the living who cherish what can never die; it is the loving who keep back their dead from death".(6)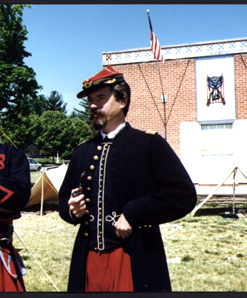 Brian Pohanka, as Captain of Co. A, Fifth New York, Duryee's Zouaves,
at Gettysburg, May 1997.
Photo taken by Margaret Marley Stowell.
May God comfort his beloved wife, Cricket, and his family and many friends, in the wake of his passing.
BRIAN C. POHANKA
MARCH 20, 1955 - JUNE 15, 2005