TO THE LIMITS OF THE SOUL'S IDEAL:
PAT'S FAVORITE 'PATRIOT DOGS'
Joshua Lawrence Chamberlain owned a war horse named "Charlemagne", and a dog named "Tiberius Caesar" (or "Tibe" for short), among other pets. And since he had such faithful four-legged friends, I don't think he'd mind much, if I showed off my favorite dogs.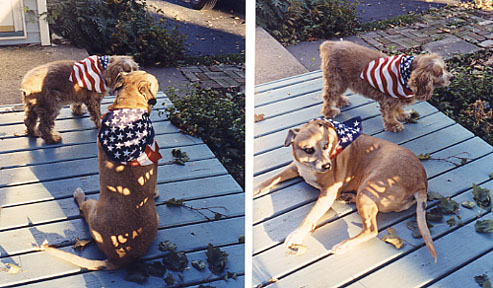 These were my original "Patriot Dogs": "Brumbie" (the mixed-breed) and "Rusty" (the cocker spaniel). They belonged to my sister and brother-in-law, Joanne and David Lenweaver.
Don't you love the star-spangled bandannas they're wearing?
A SAD NOTE: Unfortunately, Rusty is no longer with us. He died March 21, 2003, after a brief battle with canine lymphoma. I am consoled only by the fact that he lived a very happy life with David and Joanne. He gave us so much love in return.
RIP, Rusty--our little 'Patriot Dog"
1989 - 2003
ANOTHER SAD NOTE: Brumbie, the mixed-breed in the above pictures, died July 29, 2005, of old age. She was about 15 years old. She will be remembered for giving our family so many loving and fun moments through the years. She is still missed very, very much.
RIP, Miss Brumbie--faithful "Patriot Dog"
ca. 1990 - 2005
Here's the first most recent addition to the family:
LEENIE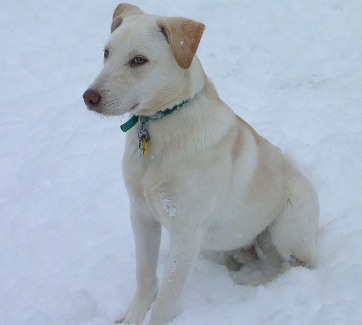 Leenie is part-Labrador, part-German Shepherd and part-Pittie, among other breeds: in short, a "Heinz 57 dog"! I think Joshua would have had a lot of fun playing with this bundle of energy!
She's wearing her "Devil Dog" look....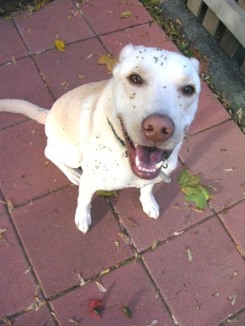 Here is Leenie again--also known in this picture as "Seedie", because of all the little seeds stuck to her head.
She's a very happy girl!!
Now it's time to introduce the latest member of the family: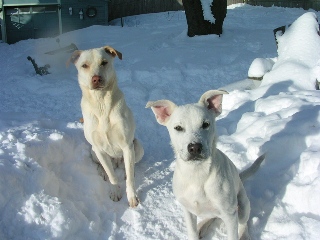 GROMIT!!
Gromit (yes--he IS named for the canine half of the British animated team of "Wallace and Gromit") is part-Shepherd, part-Labrador, and part-Husky.
Here he is on the right, in my sister and brother-in-law's backyard, with his new "big sister Leenie".
Gromit is all nutty--but very lovable.
I wonder what General Chamberlain would have thought of "Mr. Gromit" and his antics?
And here's another one of my favorite dogs: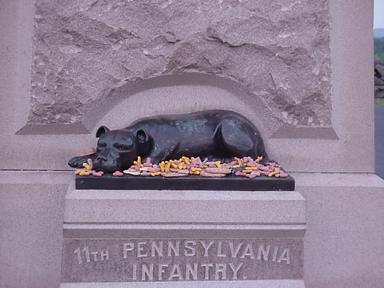 SALLIE
Thanks to my friend Barb Beranek, for letting me use this picture on my site.
Gettysburg National Military Park, Gettysburg, PA
July 2002
Sallie was the mascot of the 11th Pennsylvania Volunteer Infantry. She was as much a Civil War soldier as her human comrades; she would stand with the color guard during a battle, and bark like mad at the opposing Confederates!
At Gettysburg, she stayed with the dead and wounded of the regiment--even when the 11th was forced to retreat during the first day's fight. She was found several days later by men from the 11th's brigade, nearly starved and dying of thirst. She was reunited with the 11th PA, and the men nursed her back to health.
Sadly, Sallie herself did not survive the war--she was killed the following year, during a battle at Hatcher's Run, VA. Her grieving human comrades gave her a military burial under fire--and she's still there, lying in an unknown grave.
When the regiment dedicated their Gettysburg monument long after the war, they thought enough of Sallie to put her likeness near the base of the monument. Today, it's one of the more-visited spots on the battlefield, especially for dog-lovers--who leave her treats of all kinds!
I like to think she's still out there at Gettysburg, watching over "her boys" on the field.
Since Chamberlain himself loved dogs, I don't think he'd mind having her picture here.
Thanks are due once again to my dear friend Thomas Fleming, for reducing the photos of Leenie, Leenie and Gromit, and Sallie for me!