TO THE LIMITS OF THE SOUL'S IDEAL:
POST-GETTYSBURG
Not long after Gettysburg, in August 1863, Chamberlain was given permanent command of the Fifth Corps' Third Brigade, by General Griffin. He did not hold command for long, though--the accumulating stress and strain finally broke his health, and he went to Washington at the end of July, and eventually back to Maine for fifteen days' sick leave. He returned to the field in August, back to command of the Third Brigade--still as a Colonel, although Generals Griffin, Ames, and Oliver O. Howard--and even Vice President Hannibal Hamlin, a fellow Mainer--actively campaigned for Chamberlain's promotion to Brigadier General. But nothing came of all these recommendations--supposedly because of an active dislike of the Fifth Corps by some of the "powers-that-be" in Washington, going back to the days of Generals Fitz John Porter and George McClellan.
In November 1863, while camping out in a snowstorm, Chamberlain came down with a recurrence of "malarial fever"; he spent two months recovering from this, and returned home to Maine for December and January. In February 1864, Chamberlain was assigned to court-martial duty in Washington DC, and in Trenton, New Jersey. It wasn't long before such duty began to wear on him, and he began actively campaigning for a return to field duty.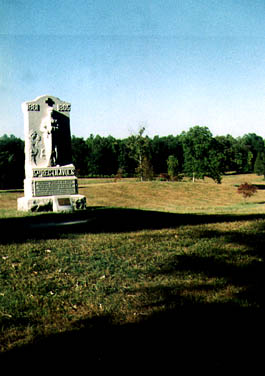 "The Bloody Angle", near Spotsylvania Court House, VA.
On yet another gorgeous Virginia fall day, Cheryl and I were able to walk around this peaceful field, looking at the remains of trenches, and the foundation of the building that served as the Union Second Corps' headquarters. Hard to believe this field was the site of some of the most vicious fighting in the entire Civil War!
Chamberlain himself did not fight at "The Bloody Angle" (also known as "The Mule Shoe"); he just missed the fighting here and in the nearby Wilderness--although the 20th Maine fought in the latter fight, and took a beating. Chamberlain did get into the fight at nearby Pole Cat Creek, however.
"...the Wilderness, Spotsylvania, the North Anna, Cold Harbor...unspoken, unspeakable history. Call back that roseate May morning, all the springs of life athrill, that youthful army pressing the bridges of the Rapidan, flower of Northern homes, thousands upon thousands; tested in valor, disciplined by experience, hearts swelling with manly courage, confident trust, and supreme devotion--to be plunged straightway into hell-like horrors..."
(1)
"The hammering business had been hard on the hammer."(2)
NOTE: This Web site is Copyright © 1999- 2009 Pat Finnegan. All rights reserved.

DO NOT use any written material, or photographs, without first contacting me in writing. If you do not do this, be assured that legal action will be taken.

THANK YOU!
QUESTIONS? COMMENTS? SEND ME AN
EMAIL!