Here are some photos of places and things associated with Chamberlain, that are found in Augusta, ME--the capital of the Pine Tree State.
If you have pictures of Chamberlain-related sites in Augusta, and would like to see them online, please email them to me, in a small JPG format.
Do not copy without contacting the photographers in writing. Thanks.
This photo is by David Lepkowski: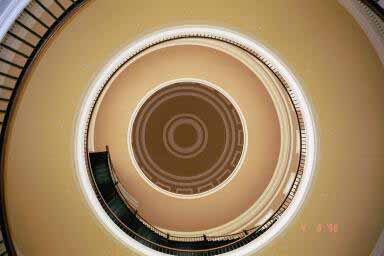 Here is a very cool look at the interior of the Maine State Capitol's dome.

These photos are by Mindy Eckler: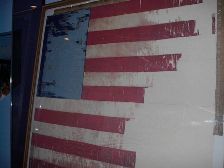 Here's a closer look at the 20th Maine's restored national colors. This is the flag they carried at Gettysburg.
Maine State Museum, Augusta, ME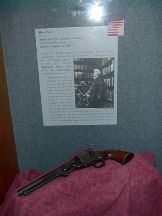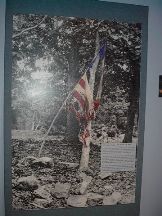 (Left Photo) This is the Navy Colt revolver, that Chamberlain took from a 15th Alabama officer who surrendered to him at Little Round Top, Gettysburg. He may well have carried this with him during the infamous "Twelve Days" election crisis in January 1880.
The photo of Chamberlain was taken in his library at home in Brunswick, ME. I believe the Confederate battle colors are from the 48th Alabama--the regiment that Helen Keller's father was a member of.
Miss Keller was one of the many distinguished Americans who visited Chamberlain in Brunswick, in his later years.
(Right Photo) Here is a period photo of the 20th Maine's national colors, taken at Little Round Top, and the condition they were in after the Civil War. As you can see, these colors saw 'hard service'! I believe the picture was taken during one of the 20th Maine's reunions at Gettysburg.
Maine State Museum, Augusta, ME
MORE PICTURES TO COME--I INVITE YOU TO SHARE YOURS!