I decided to split the photo pages, to make it easier and faster to download. Therefore, all the photos on this page are of Chamberlain's home, and other related sites, in the town of Brunswick, ME.
The newest additions are at the top of the page. Please do not copy the photos without writing directly to the photographers first.
Do you have any Chamberlain-related Brunswick, ME, pictures you'd like to share online?
Email them in a small JPG format. Thanks!
These pictures are by David Lepkowski: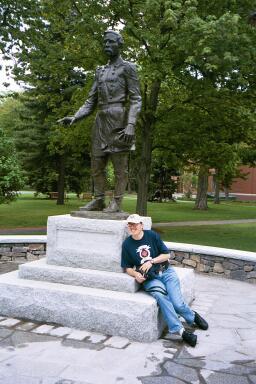 Here is Dave, during his June 2003 visit to Brunswick, having his picture taken by the Joshua Chamberlain Memorial.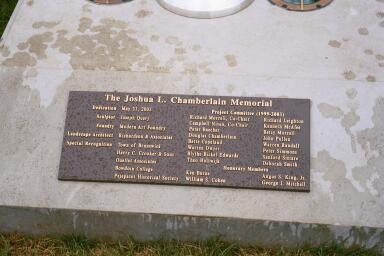 This plaque, near the Joshua Chamberlain Memorial, lists the names of the sculptor, major contributors, and others involved in its creation.

These pictures are by Mindy Eckler:
The first six photos were taken during Mindy's July 2005 visit to Maine: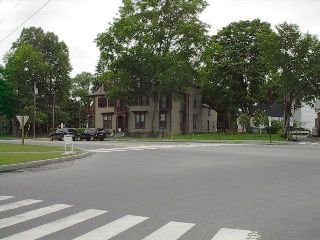 A very nice wide view of Chamberlain's home, taken from near First Parish Church. You can see the new green space next door, and it gives the house a much more 'open' look. Probably much like it was in Chamberlain's day.
Now, if we can just get rid of the cars on the street out front....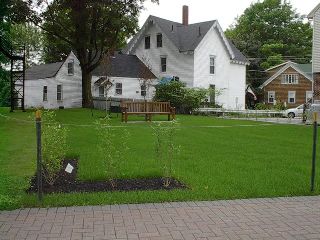 Here's something a bit unusual: a brand-new park next door to Chamberlain's home! A really hideous-looking building occupied the space until very recently, but the town of Brunswick had it torn down, and put this lovely green space next door instead.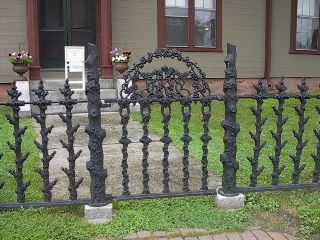 A more detailed look at the restored cast-iron fencing in front of Chamberlain's home. Believe it or not, it was manufactured in Alabama!
Joshua L. Chamberlain Museum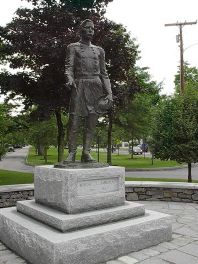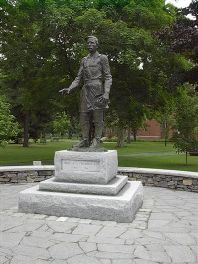 Here are two excellent views of the Chamberlain statue.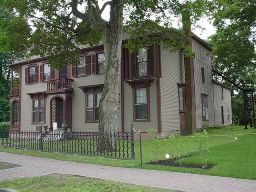 Here's a good look at the front of Chamberlain's house, with the restored cast-iron fencing in front.
Joshua L. Chamberlain Museum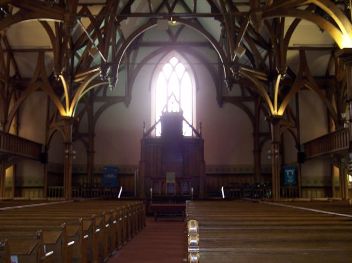 Here's a lovely shot of the interior of the newly-restored First Parish Church, which is located between Bowdoin College and Chamberlain's home. The congregation just spent over $4 million restoring both the interior and exterior of this historic structure.
Mindy actually sat in the Chamberlain family pew, which is on the right side of the church. And across the aisle from the Chamberlains' pew is one used by author Harriet Beecher Stowe--where she had the 'vision' of the death of the title character in "Uncle Tom's Cabin".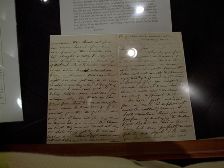 This is, I believe, a letter written by Chamberlain to his family during the war. Mindy says the Hawthorne-Longfellow Library has quite a few letters of Chamberlain's in their collection.
Hawthorne-Longfellow Library, Bowdoin College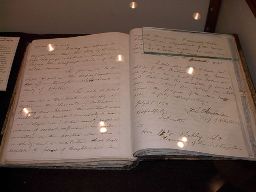 This document Mindy found on display at the Hawthorne-Longfellow Library at Bowdoin. She says it's from 1860, when Chamberlain was still a professor. According to Mindy, he's "talking about the rhetoric and German classes, and changes concerning them" to the Bowdoin staff.
Hawthorne-Longfellow Library, Bowdoin College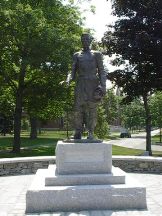 Another nice photo of the Joshua Chamberlain statue.

These pictures are by Pamela Smith Lenox: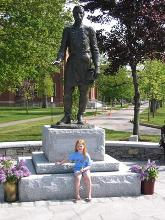 Pam took this picture on the day of the dedication--May 31, 2003. The little girl in front is her daughter, Caragh.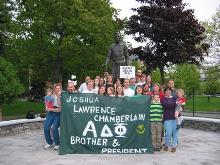 Pam was attending a reunion at Bowdoin College during its Commencement that weekend. Here are members of the Alpha Delta Phi fraternity at Bowdoin--which was also Chamberlain's fraternity, when he was a Bowdoin student.

This picture was sent me by a friend, who wishes to be anonymous. It was in the Portland Press-Herald. Please do not use without my permission.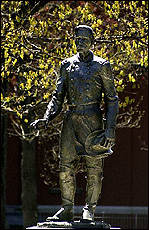 This is the statue of Chamberlain that was dedicated on May 31, 2003, in Brunswick, ME. It's located in the park between his home, Bowdoin College and the First Parish Church.

These pictures are by Bobby Grenier: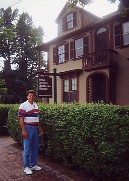 Here's my friend Bobby Grenier, in front of Chamberlain's home in Brunswick. He was visiting during "Chamberlain Days"--a biannual celebration of Chamberlain's life, sponsored by the Pejepscot Historical Society.
This photo was taken a few years before the restored cast-iron fencing was put in place of the bushes.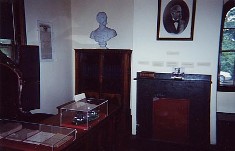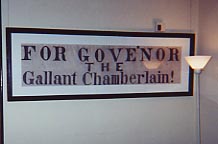 (Right Photo) This is inside Chamberlain's study. Most of the items here are from Chamberlain's short political career, when he was Governor of Maine (1866 - 1870).
(Left Photo) Bobby got a much better picture of this than I did. It's a campaign poster, for one of Chamberlain's campaigns for Governor of Maine. It's traced out, and then filled in with pencil.
Joshua L. Chamberlain Museum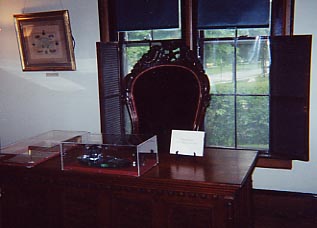 Here's the desk and chair that Chamberlain used, when he was Governor of Maine. The framed picture to the left is a certificate that Chamberlain issued to all Maine men who served in the Civil War--and it's the one he made out for himself!
Joshua L. Chamberlain Museum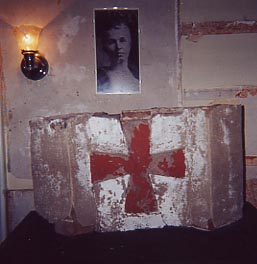 This is a portion of the house's original chimney, with the red Maltese cross symbolizing the Fifth Corps, Army of the Potomac. During the house's restoration, this piece was deemed too unstable to be left on the house. The photo above it is of Chamberlain's daughter Grace Dupee Chamberlain Allen, as a middle-aged woman.
Joshua L. Chamberlain Museum
MORE PICTURES TO COME -- I INVITE YOU TO ADD YOURS!