TO THE LIMITS OF THE SOUL'S IDEAL:
PETERSBURG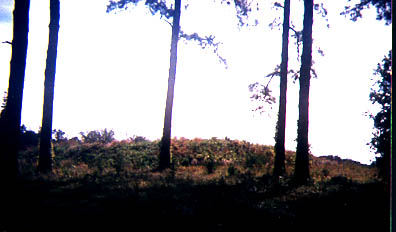 Remains of Confederate fortifications, near Petersburg, VA.
I use this picture to represent the extensive trenches and fortifications that once enveloped Petersburg, VA--site of an almost-ten month siege, from June 1864 to March 1865. For myself, I was struck by how extensive these "forts" were. They were made mostly of earth, and are now overgrown with trees and brush.
In early June 1864, Chamberlain was given command of the Fifth Corps' newly-reorganized First Brigade, consisting of five veteran Pennsylvania regiments from the now-gone First Corps: the 121st, 142nd, 143rd, 149th, and 150th--and a brand-new regiment, the 187th Pennsylvania. This brigade became known as the "Keystone Brigade". At first, there was some suspicion regarding this new brigade commander, but Chamberlain won the men over after meeting all the officers of the brigade.
About mid-June, Chamberlain found he could not shake a nagging feeling that he would be wounded in the abdomen. It was a new feeling for him, but he dealt with it by taking his blanket roll from behind his saddle and strapping it in front of him--such little protection as it was.
Sadly, that "feeling" would come true on June 18, 1864. His "Keystone Brigade" found itself in an exposed position--out in front of the whole Army of the Potomac!--facing a bluff on high ground called "Rives' Salient". Ordered to attack this position alone, Chamberlain thought there must be some mistake. To attack as ordered would be suicide, indeed. He wrote a note to his superiors, hoping they would understand his particular situation:
"...Circumstances lead me to believe the General cannot be perfectly aware of my situation, which has greatly changed within the last hour...I am advanced a mile beyond our own lines, and in an isolated position...I have here a veteran brigade of six regiments, and my responsibility for these men warrants me in wishing assurances that no mistake in communicating orders compels me to sacrifice them. From what I can see of the enemy's lines, it is my opinion that if an assault is to be made, it should be by nothing less than the entire Army."
(3)
After a somewhat difficult exchange with Brigadier General Lysander Cutler (who had been ordered to support Chamberlain's exposed left flank), Chamberlain went back to his men. The attack began shortly thereafter. Chamberlain led his men on foot, made a half-turn towards his line, motioning with his saber for his men to turn left (because of the din of battle, no one could hear shouted commands). At that moment, a ricocheting minie ball struck Chamberlain below his right hip and went through his body, expanding and tearing while traveling diagonally to his left hip, before stopping near the surface. The initial pain he felt was in his back, and his first thought was:
"What will my mother say, her boy shot in the back?"
(4)
But as he saw the blood gushing from both sides, he felt better--oddly enough. Fearing his men would falter if they saw him go down, he rammed his saber point into the ground and leaned against it, holding himself upright. Once his men were past, the loss of blood became too much, and Chamberlain fell on one knee, then the other, and finally collapsed to the ground. Two of his staff officers managed to pull him off the field, but he lay in the dirt for over an hour, feeling his blood seep into the ground, and hearing the cries of his men as they went to the slaughter.
"I am not of Virginia blood; she is of mine."
(5)
Chamberlain was finally removed from the field on a stretcher, borne by four men from Captain John Bigelow's Ninth Massachusetts Artillery. When these men came to his side, Chamberlain told them to leave him be, believing himself to be mortally wounded. One of the artillerymen replied:
"You are not in command, Sir. Captain Bigelow's order to us was to bring you back, and that is what we must do."
(6)
The 20th Maine, for its part, did not participate in the attack this day. But Captain Tom Chamberlain learned of his brother's wounding, and set off to find him, accompanied by the 20th's surgeon, Dr. Abner O. Shaw, and the 44th New York's surgeon, Dr. Morris Townsend. Tom and the surgeons searched for Chamberlain for hours, finally locating him at the Division field hospital, three miles behind the lines. They were told Chamberlain would not survive--the minie ball had done tremendous damage; it severed blood vessels, nicked the urethra and bladder and crushed bone before it stopped. That night, both General G.K. Warren (Fifth Corps commander) and General Griffin visited Chamberlain and told him their recommendation for promotion to Brigadier General would be forwarded immediately. That pleased Chamberlain greatly; the promotion would gratify his family and friends.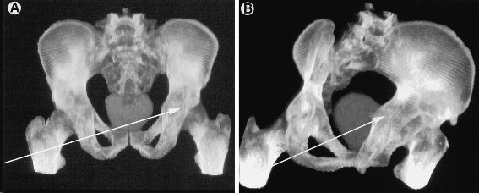 No--these are NOT x-rays of Chamberlain's hip region! But it does illustrate the path the bullet traveled, and what areas of his lower body were most affected.
Photo sent by David James.
Do not copy without his express written permission.
All night Doctors Shaw and Townsend labored, trying to save Chamberlain's life. At one point, they stopped, believing they were only prolonging his agony. But Chamberlain, with a great will to live, urged them to go on. The bullet was removed, and the doctors managed to patch him back together again, concluding that there was a chance for recovery.
The next day, in spite of horrible pain and believing he was on his deathbed, Chamberlain wrote this letter to Fannie:
"My darling wife I am lying mortally wounded the doctors think, but my mind & heart are at peace Jesus Christ is my al-sufficient savior. I go to him. God bless & keep & comfort you, precious one. You have been a precious wife to me. To know & love you makes life & death beautiful. Cherish the darlings & give my love to all the dear ones. Do not grieve too much for me. We shall all soon meet Live for the children Give my dearest love to Father, Mother & Sallie & John Oh how happy to feel yourself forgiven God bless you evermore precious precious one Ever yours, Lawrence."
(7)
Chamberlain was eventually transferred to City Point, VA, via stretcher, then placed on a hospital ship by Dr.Townsend, and taken to the Naval Hospital at Annapolis, MD. The news of his wounding and critical condition finally reached Maine, and it threw his family and friends into a state of frenzy. His mother, his sister Sae, and Fannie's new stepmother Helen Root Adams, alternately cried and prayed for Chamberlain's recovery. His brother John hurried to Annapolis, when news of his brother's condition came. By the time John arrived, however, the crisis period had passed, and Chamberlain began to heal quickly.
If anything good can be said to have come out of this situation, it did--in the form of the long-delayed promotion to Brigadier General, by no one other than Lt. General U.S. Grant himself. Grant later told Chamberlain that he'd never made a promotion on the field of battle before. Grant wrote:
"Col. J.L. Chamberlain, of the 20th Maine, was wounded on the 18th. He was gallantly leading his brigade at the time, as he had been in the habit of doing in all the engagements in which he had previously been engaged. He had several times been recommended for a Brigadier-Generalcy for gallant and meritorious conduct. On this occasion, I promoted him on the spot..."
(8)
In September 1864, Chamberlain was sent home to Brunswick, to recover. But he was anxious to return to the field, to "finish the business". Remarkably, he did return to Petersburg on November 18--although still unable to ride a horse, or walk unassisted a hundred yards. On his arrival, he discovered that his old First Brigade command broken up and scattered. Instead of five Pennsylvania regiments, he now commanded two new regiments: the 185th New York and the 198th Pennsylvania. His brigade had gone from the largest in the Fifth Corps, to the smallest.
Chamberlain and his brigade participated in the "Weldon Railroad Raid", which was intended to further cut supplies to Lee's army around Petersburg. But the strain of this short campaign made Chamberlain realize he'd come back to the field too soon, and he underwent further surgery on his wounds in Philadelphia, in January 1865--and he headed once more back to Maine to recover.
During his recovery period, Chamberlain was offered a tempting position as Collector of Customs for the District of Bath. He thought about it carefully, but decided to return to the army, if possible. Naturally, his family opposed his return--his mother, in a New Year's letter, begged him to take care of himself. But in a letter to his parents the day before he returned to the army, Chamberlain attempted to explain his motives for going back:
"I owe the Country three years service. It is a time when every man should stand by his guns. And I am not scared or hurt enough yet to be willing to face the rear, when other men are marching to the front. It is true my incomplete recovery from my wounds would make a more quiet life desirable, & when I think of my young and dependent family the whole strength of that motive to make the most of my life comes over me. But there is no promise of life in peace, & no decree of death in war. And I am so confident of the sincerity of my motives that I can trust my own life & the welfare of my family in the hands of Providence."
(9)
NOTE: This Web site is Copyright © 1999- 2009 Pat Finnegan. All rights reserved.

DO NOT use any written material, or photographs, without first contacting me in writing. If you do not do this, be assured that legal action will be taken.

THANK YOU!
QUESTIONS? COMMENTS? SEND ME AN
EMAIL!