TO THE LIMITS OF THE SOUL'S IDEAL:
A LETTER FROM SYRACUSE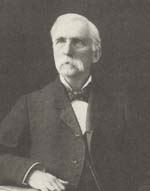 This wonderful picture of Chamberlain is from the collection of the Pejepscot Historical Society, Brunswick, ME. Do not use without their permission. Thanks!
The following letter was written to General Joshua Lawrence Chamberlain in May 1888, by Mrs. Jennie Robinson of Syracuse, NY. She was the widow of Dr. J.F Robinson, the assistant surgeon of the 15th NY Cavalry. Her husband was a patient in the Georgetown Officers' Hospital, outside Washington, DC, in late 1863, where Chamberlain was also a patient--recovering from a bout with malaria. Mrs. Robinson had come to the hospital to take care of her husband. Unfortunately, Dr. Robinson died in February 1864.
Evidently, Chamberlain (and his wife Fannie, who was there to take care of Chamberlain himself) had made quite an impression on the Syracuse widow. When he came to speak at a Memorial Day observance in Syracuse in May 1888, she came to the ceremony, and introduced herself to him. Surprisingly, he still remembered her, after nearly 25 years! She also introduced him to her daughter, who was with her (and whom had never known her late father), and Chamberlain graciously sent the girl an autographed portrait of himself!
There are a couple of historical mysteries here: did Chamberlain eventually meet Mrs. Robinson and her daughter one-to-one? And what of that autographed photo he gave to the daughter? Sure wish I knew the answers to both questions! If anyone does, can they let me know?
The following is the letter Mrs. Robinson wrote him, after she heard his speech that night:
"53 Seymour St.

Syracuse, NY

May 30, '88
"General J.L. Chamberlain:
"As to-day we all take a backward look, I am going to ask you to go back in memory to January, 1864, in the Officers' Hospital at Georgetown. There was brought to from camp assistant surgeon J.H. Robinson, of the 15th N.Y. Cav., with his wife. He died there, February 8th, 1864.
"I, his widow, shall never forget the kindness shown to him and me during that bitter trial. In all the years which have come and gone, the memory of your thoughtful helpfulness has ever shown out a light on the otherwise dark path.
"I hope to hear what you have to say to the people to-night, but more especially should I be glad to meet you in a less public way, and present to you my daughter, who never having seen her father, would be glad to know one who was with him in his last hours.
"Should you have any time disengaged, will you kindly send me a note, and we will call upon you at your hotel - knowing your time to be fully taken, will not ask you to our own home.
"Yours very truly,

Mrs. J.H. Robinson"
I want to acknowledge the Frost Family Papers, Manuscripts and Archives section of the Yale University Library, for their generosity in allowing me to obtain a copy of this letter.
NOTE: This Web site is Copyright © 1999- 2009 Pat Finnegan. All rights reserved.

DO NOT use any written material, or photographs, without first contacting me in writing. If you do not do this, be assured that legal action will be taken.

THANK YOU!
QUESTIONS? COMMENTS? SEND ME AN
EMAIL!