TO THE LIMITS OF THE SOUL'S IDEAL:
A 'VIRTUAL TOUR' OF JOSHUA LAWRENCE CHAMBERLAIN'S HOME
AN INTRODUCTION
In the year 1825, a retired sea captain named Jesse Pierce built a house on land that's now 4 Potter Street, in the small college community of Brunswick, Maine. Thirty-four years later -- and after a succession of different owners -- an up-and-coming young Bowdoin College professor would buy the house for $2100, and move his young family into it.
Joshua Lawrence Chamberlain was that young professor. And, for the next eighty years, he would pass from youth to old age in this house. He would become, in turn, a Civil War hero, Governor of Maine, President of Bowdoin College, a much in-demand public speaker, writer and world traveler.
Through the doors of this house -- now located at 226 Maine Street -- would also pass many famous people. Generals, political figures, and prominent social figures of the day, would come here and pay their respects to Chamberlain.
Eighty years after Chamberlain's $2100 purchase, the house would finally pass out of his family's hands; and, for the next forty years, would see a variety of tenants -- mostly Bowdoin College students. During that time, unfortunately, the house would also experience much physical deterioration, almost to the point of demolition.
Thankfully -- for all admirers of Joshua Chamberlain -- the Pejepscot Historical Society stepped in, and raised funds to buy the house from the estate of Emery Booker for $74,000, and thus begin the long process of continuing restoration and preservation.
This, then, is a 'virtual tour' of that house....
A DEDICATION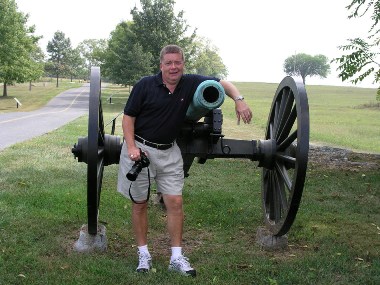 David Williamson, on a visit to Antietam, in September 2005.
Photo by his wife, Shirley Williamson.
Do not use without express written permission.
This gentleman is the 'inspiration' for the virtual house tour pages: a new friend named David Williamson, of Halifax, Nova Scotia, Canada. He sent me many beautiful pictures of the exterior and interior of Chamberlain's Brunswick home. And I can think of no better way to display them, than by creating this whole new set of pages.
I look forward to sharing more about Chamberlain with David. He shares my own enthusiasm for the man.
THANK YOU, MY NEW CANADIAN FRIEND!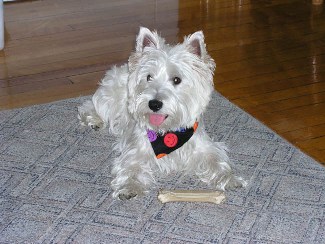 And here is David and Shirley Williamson's adorable West Highland White Terrier, "Bhreagh"!
Photo by David Williamson. D
o not use without his express written permission.

NOTE: This Web site is Copyright © 1999- 2009 Pat Finnegan. All rights reserved.

DO NOT use any written material, or photographs, without first contacting me in writing. If you do not do this, be assured that legal action will be taken.

THANK YOU!
QUESTIONS? COMMENTS? SEND ME AN
EMAIL!