TO THE LIMITS OF THE SOUL'S IDEAL:
A 'VIRTUAL TOUR' OF JOSHUA LAWRENCE CHAMBERLAIN'S HOME
THE FAMILY DINING ROOM
The last room on the tour sits just off the Reception Room: the Family Dining Room. It was restored in 2000, to make it look like a dining room of the 1890s.
In the years since the house was raised, the dining room walls were decorated many times over, with several layers of wallpaper being found, along with many layers of paint. They are now painted a medium green, with a stenciled border on top of the walls. The rest of the ceiling is wallpapered -- but during its apartment days, it was covered by two drop ceilings.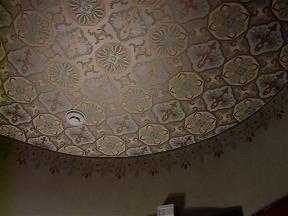 Here's a good look at the dining room wallpaper described above!
Photo by Mindy Eckler.
Do not use without her express written permission.
There is some original furniture on display: several dining room chairs, and a sideboard that today holds original family dishes and glassware. According to Mrs. Catherine Smith, Chamberlain's last secretary, the room was "partially lighted by an overhead window, which produced a charming effect on the old family silver and cut glass pieces arranged on the sideboard below it. The dining table, massive style, and its heavy side chairs, all part of an era....A ginger-bread type open hutch, contained glass and crystal pieces, among the most exquisite were the clear colored, of many hues, finger bowls, all part of the tradition of the Chamberlain family and its entertainment of festive occasions...".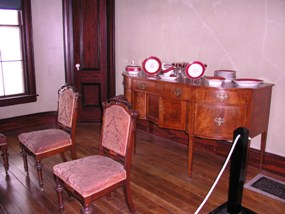 Here are the chairs and sideboard, described above.
Photo by David Williamson.
Do not use without his express written permission.
But most visitors want to know: where is the dining room table? That's an enduring mystery. And it also holds a persistent legend to this day:
According to an article in the June-July 1984 edition of "Blue-Gray" magazine, it appears that after the Civil War, Chamberlain invited a number of both Union and Confederate generals for a reunion, including Ulysses S. Grant, William T. Sherman -- and possibly even James Longstreet. When all the guests finally arrived, Chamberlain brought them into the dining room -- and announced that the reunion's first order of business was for each general to take a penknife and carve their initials into the very table around which they were reminiscing! And that, according to this story, was exactly what they did.
Is this story true? No one knows, because the table is gone -- probably sold by Emery Booker at auction. It sure would be the 'find of the year', if it was located!
And one final thought: what in the world would Fannie have thought of her husband encouraging his guests to 'wreck' her dining room table? If this story is true, it sure is a pretty bizarre one.
And it's a pretty bizarre way to end this 'Virtual House Tour". Hope you've enjoyed it.
And if YOU, like Mr. David Williamson, or Mindy Eckler, have any photos from the inside of Chamberlain's home, and would also like to see them on these pages, I'd love to hear from you, and see your photos.
Send them in a small JPG format, using the email link below.

NOTE: This Web site is Copyright © 1999- 2009 Pat Finnegan. All rights reserved.

DO NOT use any written material, or photographs, without first contacting me in writing. If you do not do this, be assured that legal action will be taken.

THANK YOU!
QUESTIONS? COMMENTS? SEND ME AN
EMAIL!