TO THE LIMITS OF THE SOUL'S IDEAL
A 'VIRTUAL TOUR' OF JOSHUA LAWRENCE CHAMBERLAIN'S HOME:
THE RECEPTION ROOM
When visitors came to call on the Chamberlains, they were led from the front door to a reception room at the end of the front hallway. It has an unusual configuration: rounded walls. When Chamberlain's three granddaughters -- Eleanor, Beatrice and Rosamond Allen -- saw these walls, they named the whole room "the curvy room".
From the end of the hallway, a visitor's entrance was made through double doors, which almost resembled something made for an Arabian Nights' palace. Today, the walls are painted a light green, but no one knows for sure what the original color was. There are ceiling borders above the walls -- some are original, and some are reproductions.
The ceiling itself is made of painted tin, with a Maltese cross motif stamped on it. No one knows exactly when it was installed, but tests seem to indicate it was during a period of ten years after the house was raised in 1871.
These days, the room displays many articles from Chamberlain's life. One large display case contains some interesting items -- such as a photo of Chamberlain, looking resplendant in his Grand Army of the Republic uniform. Alongside this photo are several G.A.R. badges and medals presented to Chamberlain by the various veterans' posts, where he was invited to speak.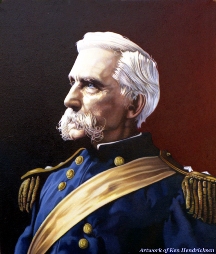 Here is what the photo described above would have looked like in color!
This is by Maine artist Ken Hendricksen.
Do NOT use without my express written permission.
Also on display in the case are some bullets Chamberlain picked up during a visit to some of the battlefields around Petersburg, VA -- the same visit where he found the actual site of his near-fatal wounding in June 1864. There is also a first edition of only published work: "The Passing of the Armies" -- a book he'd worked on during his eighties, and was edited by his daughter Grace after his death. There is even some tiny fragments of one of Chamberlain's funeral wreaths in this case!
Other photos in this case are of Chamberlain on horseback, taken in 1907 -- and of his summer home, "Domhegan", which was located five miles from Brunswick, on Simpson's Point, and was surrounded by Casco Bay. He bought the property, a former shipyard, for $1000, and used it as a summer home, as well as for an artists' colony. From here, he would sail out onto Casco Bay in his little schooner "Pinafore", and would take guests along for the ride.
Chamberlain also buried his faithful war horse "Charlemagne" here, after the horse's death in the early 20th century; Chamberlain gave his old equine friend a Christian burial. And Charlemagne's still buried somewhere on the property today.
Domhegan's main building burned down, sadly, in 1940.

NOTE: This Web site is Copyright © 1999- 2009 Pat Finnegan. All rights reserved.

DO NOT use any written material, or photographs, without first contacting me in writing. If you do not do this, be assured that legal action will be taken.

THANK YOU!
QUESTIONS? COMMENTS? SEND ME AN
EMAIL!