TO THE LIMITS OF THE SOUL'S IDEAL
A 'VIRTUAL TOUR' OF JOSHUA LAWRENCE CHAMBERLAIN'S HOME:
THE 'GOVERNOR'S ROOM'
This room, located to the west of the Library, was once Chamberlain's study. It's now called "The Governor's Room", because it contains relics from Chamberlain's years as Governor of Maine, from 1866 to 1871.
Probably the first thing that catches a visitor's eye here, is the desk Chamberlain used in his office, at the State House in Augusta. It's a rather simple piece of Victorian-era furniture. Sitting atop the desk, in a plexiglass box, are Chamberlain's dual inkwells, which sit upon a stand engraved with a Maltese cross.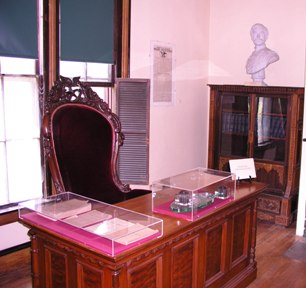 Here's a good view of Chamberlain's governor's desk. The bust described below can be seen on the bookcase to the right of the desk.
Photo by David Williamson.
Do not use without his express written permission.
Behind the desk is a rather massive carved chair, upholstered in red plush. The carving atop the chair is of a war eagle and a raised star -- probably reflecting Chamberlain's general officer rank.
On top of one of the room's bookcases sits a prominent marble bust of Chamberlain, which was believed lost for many years. It was found in the early 1960s by Emery Booker -- the man who bought Chamberlain's home from granddaughter Rosamond Allen in 1939. He found it among some long-stored antiques and paintings.
The desk and chair both have interesting histories. They were probably made and bought in 1867, after Chamberlain took office, when new furniture would have been authorized for the incoming Governor. Both pieces remained in the State House until 1901, when they were given to a man named Edward E. Chase, of Blue Hill, ME -- a member of then-Maine Governor John F. Hill's Executive Council.
In 1939, the Chase family donated these pieces to the University of Maine, at Orono -- a school co-founded by Chamberlain, ironically, during his tenure as Governor -- for a proposed museum. Instead, they were used by University of Maine presidents for awhile, until they went out of use. Years later, the desk was found in the University's Special Collections section.
But a very bizarre legend has become attached to the chair. It was found at the U. of Maine's athletic facilities on campus, and supposedly used just once a year: as a throne for the Homecoming Queen!
Eventually, both pieces were returned to the State House in 1974, for use by future Governors of Maine. Later on, they were put on permanent exhibit here, at Chamberlain's house.
Among the items seen on the wall are a banner, used for one of his gubernatorial campaigns. It's traced out in pencil, and then filled in with ink.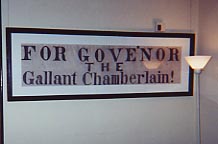 A campaign poster for "The Gallant Chamberlain!"
Photo by Bobby Grenier.
Do not use without his express written permission.
Another, and quite interesting, item shows Chamberlain's rather sly sense of humor. When Chamberlain was Governor, he authorized the creation of certificates of appreciation, to be sent to every Maine resident who served in the Civil War. He also signed every single one of these certificates. This particular document, shown to the left in the photo below, was presented to "Major General Joshua L. Chamberlain" -- and signed by "GOVERNOR Joshua L. Chamberlain"!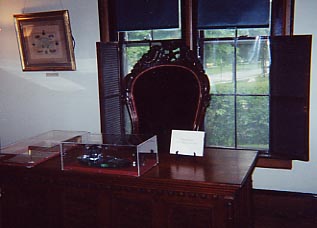 Another look at the desk, with Chamberlain's own "Maine Civil War Veteran Appreciation" certificate on the wall to the left.
Photo by Bobby Grenier.
Do not use without his express written permission.
When Chamberlain used this study, he would usually have papers strewn and stacked everywhere about. There is an amusing story of how his beloved daughter, Grace, would go round the room and pick up after her father--and probably tease him about it afterwards.
This room had, at one time, also contained many Egyptian artifacts, which Chamberlain bought while on an extended European - Middle East trip in 1901. They included figures of the Greek god Hermes (or Mercury), and the ancient lovers the Greek god Cupid and the mortal Psyche -- along with some relics found in some of the Egyptian royal tombs, which were just beginning to be excavated in the early 20th century.
This was also the room where Chamberlain would meet with students, when he was Bowdoin College president. For those students given this opportunity to meet Chamberlain one-to-one, it was an experience remembered vividly by them for the rest of their lives.
I sure wish I'd had that opportunity to meet President Chamberlain. But then, Bowdoin was still an all-male school - and I, as a woman, wouldn't have been able to, as a student. What would Chamberlain think today about women finally being admitted as Bowdoin undergraduates?
I think he'd be very pleased! And he would also be surprised to know that women undergraduates at Bowdoin outnumber the men today!

NOTE: This Web site is Copyright © 1999- 2009 Pat Finnegan. All rights reserved.

DO NOT use any written material, or photographs, without first contacting me in writing. If you do not do this, be assured that legal action will be taken.

THANK YOU!
QUESTIONS? COMMENTS? SEND ME AN
EMAIL!