TO THE LIMITS OF THE SOUL'S IDEAL
A 'VIRTUAL TOUR' OF JOSHUA LAWRENCE CHAMBERLAIN'S HOME:
THE LIBRARY
This room is considered by many to be the 'soul of the house', and has been restored to close to its 1871 appearance. Here. Chamberlain was surrounded by many of his Civil War artifacts, and he spent much time here reading and reliving that momentous time in his life.
The walls are covered with dark French wallpaper - a replica of the original. The ceiling's been replastered for the most part, except for an intricate stencil on the outer portion, which the restorer managed to save.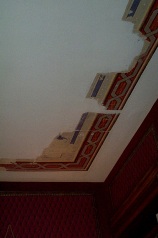 Here is that original stencil on the ceiling, which the restorers found.
Photo by Susan O'Shields.
Many of Chamberlain's personal effects are on display here. There are two original pieces of furniture: a table and a built-in bookcase desk, along with his Civil War field chest and a liquor case. The bookcases today are pretty much empty: only a handful of the the thousands of books Chamberlain owned are 'back home', where they belonged.
I've seen several of them on display, in various antique shops in Gettysburg. If I could afford to buy them, I would donate them back to the Pejepscot Historical Society, so they can put them back in Joshua's library!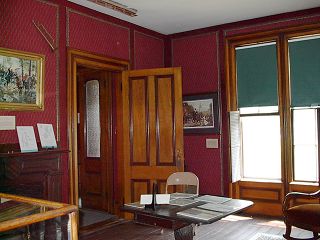 Here's a view of the library's entrance.
To the left of the door, you can see a little of the Don Troiani painting.
Photo by Mindy Eckler.
Do not use without her express written permission.
On the north wall, the visitor will see an original oil painting by noted Civil War artist Don Troiani, depicting Chamberlain and the 20th Maine, during their charge down Little Round Top. The artist donated this painting to the Society. The charge, of course, earned Chamberlain his Medal of Honor, which was awarded to him in the late 19th century.
Also above the fireplace is a bugle, sometimes known as the "Appomattox Bugle". It was willed to Chamberlain by his former Fifth Corps division commander, General Charles Griffin, after Griffin's death in the late 1860s.
The Medal is now in the Special Collections Room, at the Hawthorne-Longfellow Library, Bowdoin College.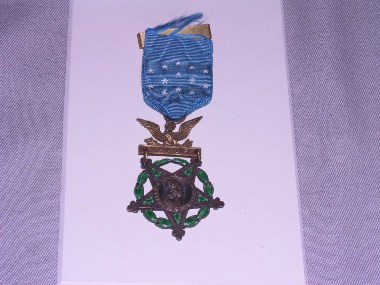 Here is Chamberlain's Medal of Honor.
Photo by David Williamson.
Do not use without his express written permission.
Below the Troiani painting, on the fireplace mantel, is a photo of Chamberlain as an elderly man, standing next to the last Confederate battle flag surrendered at Appomattox. In his hand, he holds the Navy Colt revolver that he captured from a 15th Alabama officer, who tried to kill him with it, during the charge down Little Round Top.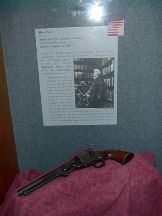 This is the revolver and photo described above.
Maine State Museum, Augusta, ME.
Photo by Mindy Eckler.
Do not use without her express written permission.
Along the south wall, one sees a large display case, containing Chamberlain's saddle, saddle blanket and tacking. He used this during the Civil War, and while riding in parades and at other special events into the 20th century.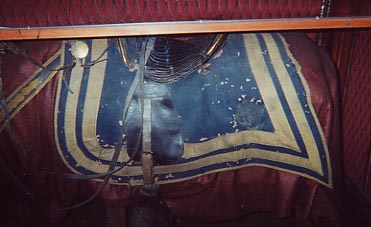 Chamberlain's 'horse stuff'.
Photo by Bobby Grenier.
Do not use without his express written permission.
Just above this case is an art print entitled "Soul of the Lion", by Civil War artist Joe Umble. It depicts Chamberlain leading his "Keystone Brigade"'s charge against "Rives' Salient", near Petersburg, VA, on June 18, 1864. Chamberlain is shown holding aloft the Fifth Corps divisional flag -- which he picked up after the color bearer was killed -- and urging his men forward...seconds before a ricocheting bullet strikes him at the right hip, and makes its deadly way to his left hip: all the while doing tremendous internal damage, such as severing arteries and nicking his bladder. The effects from this wound plagued Chamberlain the rest of his life, and would contribute directly to his death, on February 24, 1914.
On the library's west wall is a card, with the text of a letter Chamberlain wrote to Fannie on June 19, 1864. He had undergone a horrible night, as Drs. Abner Shaw of the 20th Maine, and Morris Townsend of the 44th New York, worked tirelessly through the night, to save Chamberlain's life. After the surgery was done, even though he was in great pain, Chamberlain somehow managed to write this very moving letter:
"My darling wife I am lying mortally wounded the doctors think, but my mind & heart are at peace Jesus Christ is my al-sufficient savior. I go to him. God bless & keep & comfort you, precious one. You have been a precious wife to me. To know & love you makes life & death beautiful. Cherish the darlings & give my love to all the dear ones. Do not grieve too much for me. We shall all soon meet Live for the children Give my dearest love to Father, Mother & Sallie & John Oh how happy to feel yourself forgiven God bless you evermore precious precious one Ever yours, Lawrence."
The original is in the Hawthorne-Longfellow library at Bowdoin College. And one can still see evidence of bloodstains on it, after over 140 years...
Also on the west wall are photos of Chamberlain at different stages of his Civil War career: a Lieutenant Colonel in 1862; Brigadier General in 1864, and Major General, in 1865.
Beneath these photos is another large display case, containing more of Chamberlain's military relics. There are buttons and colonel's shoulder boards -- all that remains of his Colonel's woollen uniform -- a forage cap with a 20th Maine insignia, and one of his swords and an officer's gauntlet, along with Major General's boards and buttons.
Two of the more interesting artifacts are also displayed here. One is the pair of boots Chamberlain wore at Little Round Top. On closer inspection, the visitor can see a patch on the right boot's instep. This is where a piece of shrapnel cut into the boot during the battle, giving Chamberlain one of the two painful wounds suffered that day (the other being a bad thigh bruise, when he was whacked by his sword scabbard by a spent bullet).
The other, rather more gruesome, relic is a mangled minie ball, the top of which is, as I like to describe it, 'smushed'. This is the very bullet that struck and wounded Chamberlain at Petersburg in 1864. It's a mute witness to the horrible internal damage done to Chamberlain that awful June day: how it must have hit his hip bones upon impact. It's incredible that it has been preserved for so many years.
No one knows exactly who saved it. Was it his brother Tom, who, when notified of his brother's wounding, searched all the Fifth Corps' field hospitals near Petersburg? Was it the 20th Maine's surgeon, Dr. Shaw--who, along with Dr. Townsend, were brought by Tom to the hospital, to save Joshua's life?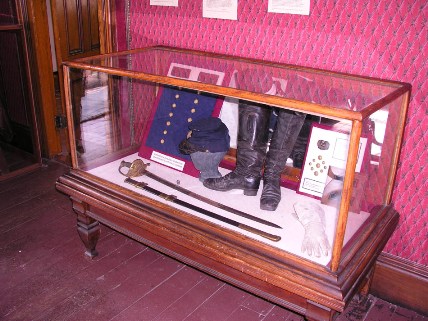 Here is the display case containing the above-described relics.
Photo by David Williamson.
Do not use without his express written permission.
There were other items from the library, which, for preservation reasons, can't be publicly displayed today. One is a Fifth Corps First Division flag, which once hung from the ceiling. Today, because of its fragile condition, is kept in the Bowdoin College library's Special Collections Room.
One other thing:; when an inventory of Chamberlain's estate was done after his daughter Grace's death in 1937, the items in the library were valued at a mere $365. They included a Civil War sword and spurs, etc., valued at $2; books, ranging in price between twenty cents and 75 cents apiece -- and family photos deemed as 'having no commercial value'.
Not so today! Seems anything Chamberlain merely touched can be worth hundreds, and thousands, of dollars. Go figure....

NOTE: This Web site is Copyright © 1999- 2009 Pat Finnegan. All rights reserved.

DO NOT use any written material, or photographs, without first contacting me in writing. If you do not do this, be assured that legal action will be taken.

THANK YOU!
QUESTIONS? COMMENTS? SEND ME AN
EMAIL!