TO THE LIMITS OF THE SOUL'S IDEAL:
A 'VIRTUAL TOUR' OF JOSHUA LAWRENCE CHAMBERLAIN'S HOME:
THE 'LONGFELLOW PARLOR'
This room, located at the top of the spiral staircase on the second floor, is the only restored room on that floor. It's called "The Longfellow Parlor", because the poet Henry Wadsworth Longfellow lived here briefly with his young wife, Mary, in 1829. He had just begun teaching at nearby Bowdoin College, in a new department of Modern Languages -- ironically, the same department that Chamberlain would also be a professor in, just 30 years later.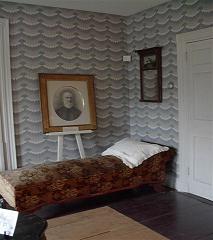 Here is a day bed in the "Longfellow Parlor".
The portrait is of none other than the poet himself.
Photo by Mindy Eckler.
Do not use without her express written permission.
Many years later, after the Chamberlains had bought the house, Longfellow returned to Brunswick for his 50th anniversary class reunion at Bowdoin. He visited the Chamberlains, and was taken upstairs to view the very same rooms he'd shared with his then-new bride. Longfellow was so overcome with emotion at seeing these rooms again, he broke down and wept. He told Chamberlain and his wife, Fannie, that the rooms looked the same as when he and Mary lived there, and also said he'd composed several of his poems, while gazing into the sitting room fireplace.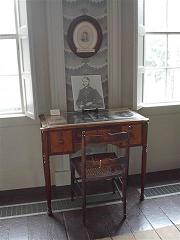 Here's a lovely little desk in the "Longfellow Room".
The photos above it are of Chamberlain's sister Sae (top), and youngest brother Tom (bottom).
Tom is wearing his Civil War uniform.
Photo by Mindy Eckler.
Do not use without her express written permission.
The Chamberlains used this room as a library at first, and then as a sitting room after the house was raised in 1871. There are many original pieces owned by Chamberlain in this room--including a massive armoire, which once stood in Chamberlain's bedroom across the hall.
(A personal note: I actually got to go inside Chamberlain's bedroom, during a tour in May 2004. It's now used as a storage room, but the Society does have plans eventually to restore it, to show what a 'typical' Victorian master bedroom of the 19th century looked like. There are no known photos of what Chamberlain's bedroom actually looked like.)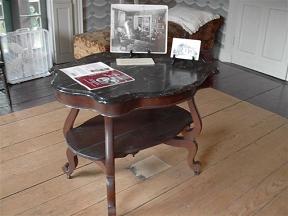 This small table belonged to Joshua and Fannie Chamberlain.
The photo on it is of the "Longfellow Parlor" in Chamberlain's day, for a newspaper article.
Photo by Mindy Eckler.
Do not use without her express written permission.
This armoire, in fact, held a hidden secret...a beautiful piece of jewelry: the 10th wedding anniversary bracelet, designed by Chamberlain and crafted by Tiffany jewelers in New York, that Joshua gave Fannie in December 1865. It's made of 24 gold hourglass-shaped links, on which are engraved the name of each Civil War battle Chamberlain was involved in. On one side is a mother-of-pearl face, with a red enamel Maltese cross -- emblem of the First Division, Fifth Corps -- surrounded by tiny diamonds. On the other is a blue enamel major general's shoulder strap, with two gold stars.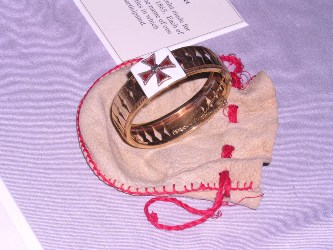 Here is Fannie's bracelet.
Hawthorne-Longfellow Library, Bowdoin College, Brunswick, ME.
Photo by David Williamson.
Do not use without his express written permission.
The bracelet was found in 1918, by a young girl named Marjorie Standish. Her family had rented two rooms on the second floor of the house, and she and a friend were playing in the then-vacant master bedroom, where the empty armoire was situated. They had been exploring the top of the armoire, where they found a box. When Marjorie opened it, she found the bracelet, which she showed to her mother -- who then locked it up, and contacted Chamberlain's daughter Grace. When Grace opened the box, she confirmed that it was her mother's bracelet. It is now on display at the Special Collections Room, at the Hawthorne-Longfellow Library, at Bowdoin College.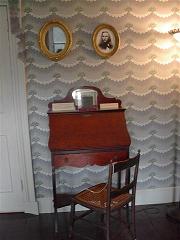 This is Fannie's writing desk.
The portrait of Chamberlain above it was taken in the early days of their marriage.
Photo by Mindy Eckler.
Do not use without her express written permission.
This room was also where Fannie, an excellent artist in her own right, would display her own paintings.
The room, restored in 2004, now displays the same gray-colored daisy chain wallpaper, with green flowers at the apex of each swag. This was discovered by the restorer, when he removed a piece of molding during his work. The Pejepscot Historical Society confirms that this is the wallpaper put up by Longfellow and his wife put up in 1832. Chamberlain kept this wallpaper up at least until 1875.
Other original colors discovered during restoration were a dark brown floor, a black fireplace mantel, and a light gray wood trim.

NOTE: This Web site is Copyright © 1999- 2009 Pat Finnegan. All rights reserved.

DO NOT use any written material, or photographs, without first contacting me in writing. If you do not do this, be assured that legal action will be taken.

THANK YOU!
QUESTIONS? COMMENTS? SEND ME AN
EMAIL!