TO THE LIMITS OF THE SOUL'S IDEAL
A 'VIRTUAL TOUR' OF JOSHUA LAWRENCE CHAMBERLAIN'S HOME:
FRONT ENTRANCE AND HALL
The house's front entrance hall was designed by Chamberlain himself, and is part of the 1867 expansion. There are rooms on either side, with a spiral staircase to the second floor.
The walls are the original plaster, with wood baseboards and a decorative painted border on top. The wall color is the restored crimson color, and one can see an original part of the paint scheme beneath the staircase, which was discovered during the dismantling of a closet from its apartment days.
Behind the staircase hangs a set of three metal gongs, which were used to summon the Chamberlain family to dinner. On the wall to the right of the staircase, the visitor finds a white porcelain knob, positioned about hip high, above a heating grate installed when central heating was put in the house. Chamberlain himself invented this unique little feature. Because his war wounds made it very difficult to bend down to the grate and reach the heat controls, he decided to put this device in. And all he had to do was reach down to turn this knob, and the heat flow into the hallway could be regulated.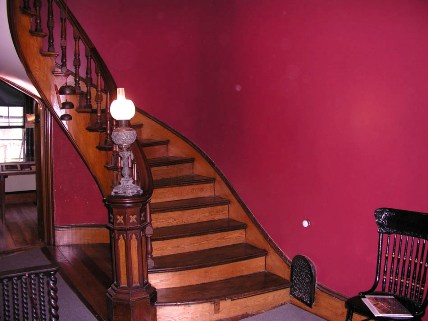 Here's a good look at the staircase, along with the white knob above the heat grate (right), and the dinner gongs beside the stair railing (left).
Photo by David Williamson.
Do not use without his express written permission.
Many famous people passed through Chamberlain's front door -- those known just in Maine, as well as nationally-known figures. They included Generals Ulysses S. Grant, William T. Sherman, Philip H. Sheridan, George B.McClellan, Fitz John Porter, Gouvernour K. Warren. and Romeyn B. Ayres. There's even some who say that former Confederate General James Longstreet also numbered among those military visitors!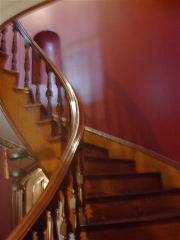 Here's another view of the same staircase.
Photo by Mindy Eckler.
Do not use without her express written permission.
Among political figures who paid social calls were: former US Senator Charles Sumner, Congressman Carl Schurz, US Senator William Pitt Fessenden, Senator Lot G. Morrill, William P. Frye, Eugene Hale, and the Honorable James G. Blaine.
One rather unusual visitor was the social activist Helen Keller. During her visit, she examined Chamberlain's war trophies. Among them was a Confederate regimental flag. When Miss Keller was told the flag was from the 22nd Alabama Volunteer Infantry, she replied that this regiment was her father's Civil War unit!
Some weeks after her visit, Chamberlain received a copy of Miss Keller's book (her autobiography, "The Story of My Life", perhaps?), and inside was written this inscription:
"My dear enemy, General Chamberlain".

NOTE: This Web site is Copyright © 1999- 2009 Pat Finnegan. All rights reserved.

DO NOT use any written material, or photographs, without first contacting me in writing. If you do not do this, be assured that legal action will be taken.

THANK YOU!
QUESTIONS? COMMENTS? SEND ME AN
EMAIL!