TO THE LIMITS OF THE SOUL'S IDEAL
A 'VIRTUAL TOUR' OF JOSHUA LAWRENCE CHAMBERLAIN'S HOME:
THE 'ARCHITECTURAL' ROOM
This is the room where today's house tours begin. Here, one can see photo displays, showing the house's history, and its various evolutions through the years.
This room was originally Chamberlain's den, where he spent many quiet hours. Here, also, is where much of Chamberlain's Civil War memorabilia was on display -- including his colonel's uniform, an oil painting of his daughter Grace as a married woman, a tapestry of his beloved war horse, "Charlemagne", a Rebel battle flag captured by Chamberlain just before Appomattox -- and the "big Navy Colt revolver" (as Chamberlain himself described it) he took from a 15th Alabama officer, during the charge down Little Round Top.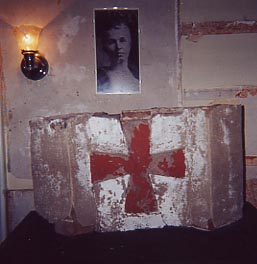 This is a piece of the original exterior chimney. During outside restoration, it was deemed too unstable to be left on, and was taken down. The photo above it is of Chamberlain's daughter Grace, as a middle-aged woman.
Photo by Bobby Grenier.
Do not use without his express written permission.
Currently, there isn't enough written or photo evidence, to know exactly what this room looked like in 1867. The north wall -- a bead board topped with windows -- was moved three feet further north to make room for a bathroom for both Chamberlain and daughter Grace: he, because of his age and war wounds; and she, because of a crippling encounter with an automobile in 1910 (Grace's knee was trapped between the car and a stone wall, and the accident left her with a permanent limp). This downstairs bathroom was built, so neither one would have to climb the spiral stairs, to use 'the facilities' there.

NOTE: This Web site is Copyright © 1999- 2009 Pat Finnegan. All rights reserved.

DO NOT use any written material, or photographs, without first contacting me in writing. If you do not do this, be assured that legal action will be taken.

THANK YOU!
QUESTIONS? COMMENTS? SEND ME AN
EMAIL!