TO THE LIMITS OF THE SOUL'S IDEAL:
CHAMBERLAIN DAYS, AUGUST 2003
BY BOBBY GRENIER
The following description was written by my good friend Bobby Grenier, of Tavares, FL. It describes his visit to the biennial "Chamberlain Days" celebration, hosted by the Pejepscot Historical Society of Brunswick, ME. It was reprinted in the "North Lake County Florida Civil War Round Table" newsletter, "Impressions of a Nation Divided".
Bobby is a great admirer of Joshua Chamberlain, and he graciously sent me the accompanying pictures, to illustrate his visit.
I hope this will give you an idea of the great time Bobby had in Maine. I thank him both for his support of the Web site, and for allowing me to use his descriptions!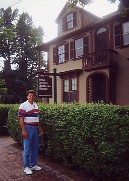 This is Bobby, in a picture taken during his first "Chamberlain Days" visit in August 2001, in front of Chamberlain's home. The bushes have now been replaced by a reproduction of the cast iron fence that stood there in Chamberlain's day.
Joshua L. Chamberlain Museum, Brunswick, Maine.
This past August, I returned to Brunswick, Maine, to participate in their biennial symposium on the extraordinary life of Joshua Lawrence Chamberlain. The event was even more spectacular than the 2001 symposium -- which was great!

I flew into Portland, Maine, on the afternoon of Tuesday, August 5. I rented a car and drove to the same wonderful Bed and Breakfast I stayed at in 2001. The Black Lantern Bed & Breakfast in Topsham is a glorious place, operated by Tom and Judy Connelie, who are warm and gracious hosts.

The Black Lantern, a Federal-style home built in 1810, with additions added in 1839, is listed in the National Historic Register as the Reverend Amos Dean Wheeler House. Tom and Judy keep period furnishings throughout the home, and you get a clear sense of a New England vacation during your stay.

The symposium's first day was Wednesday, August 6 -- opening with a blockbuster lecture by author and lecturer James A. Trulock. Mr. Trulock, who is from Indianapolis, has studied Chamberlain for over 24 years, beginning with his collaboration with his late wife Alice Rains Trulock, on her definitive biography of Chamberlain's service in the war entitled "In the Hands of Providence: Joshua L. Chamberlain and the American Civil War". Mr. Trulock has made many guest appearances, and has appeared on television on both A&E and The History Channel.

Mr. Trulock's presentation at this year's event was entitled "The Words of Joshua L. Chamberlain". Chamberlain had devoted many years since his Civil War service in telling of the struggles, hardships and the glory that he witnessed during the bitter struggle between the North and the South. Mr. Trulock's lecture explored Chamberlain's quest for the peace of mind and heart, and the messages his quest gives to us.

After the opening lecture by Mr. Trulock, I accompanied fellow attendees Cynthia Hill, of Washington, DC, and Mrs. Margaret Pullen, wife of the late author John Pullen, to Cram Alumni House for the welcome luncheon. The Cram House, built in 1859 and named for Bowdoin College Overseer Marshall Cram, served a nice lunch, and it was a great opportunity to meet new attendees, renew friendships with past attendees, and meet the staff of the Pejepscot Historical Society.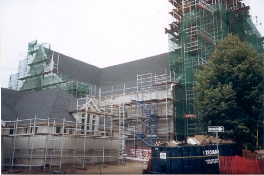 This is the Bowdoin College campus chapel, which was undergoing some major restoration work at the time of Bobby's visit.
Photo by Bobby Grenier.
At 2 pm, we returned to the First Parish Church Vestry, to hear about the Chamberlain House restoration update from Tony Castro. Mr. Castro and his company have been restoring churches, museums, public buildings and private homes in Maine since 1987. In 1999, Maine Preservation recognized Mr. Castro and his crew with their Statewide Historic Preservation Honor Award. In touring the Chamberlain House, you can witness the incredible restoration work accomplished by this gifted man.
Also at this meeting, Deborah Smith, Executive Director of the Pejepscot Historical Society, talked about the five-year journey into researching, shopping around for, the building of, and the installation of the cast iron rustic fence, that will be placed in front of the Chamberlain House. The fence is an exact reproduction of the original fence Chamberlain installed around 1870. On September 6, there was a ribbon-cutting ceremony for the new fence, which was dedicated to the memory of John J. Pullen, author of "The Twentieth Maine".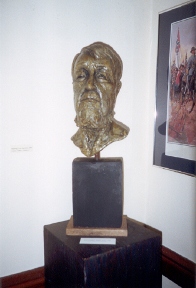 This is the bust of the late author-historian John J. Pullen, created by Joseph Query, in the Pejepscot Historical Society Museum, Brunswick, ME.
Photo by Bobby Grenier,
After spending the rest of the afternoon relaxing in my room at the Black Lantern, I went to the Pejepscot Historical Society for an evening reception celebrating the Chamberlain Statue. The reception featured the statue's sculptor, Maine native Joseph Query. Mr. Query, a quiet and modest man, has also created the World War II memorial in Bangor, and the Vietnam Veterans memorial in Madawaska, Maine.
The main room at the historical society featured drawings and moldings made by Mr. Query during his creative process. The Society also has a bust of John Pullen (pictured above), made by Mr. Query.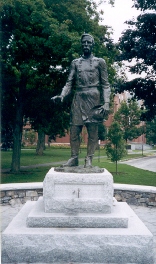 The statue of Joshua L. Chamberlain by Joseph Query, located in the park between Bowdoin College and the Chamberlain Museum, Brunswick, ME.
Photo by Bobby Grenier.
A special note on the Chamberlain statue is that it was commissioned by a group of private citizens, and was a gift to the town of Brunswick.
The weather in Maine was quite pleasant and warm. The forecast called for rain, but none had arrived as of yet.
On Thursday, September 7, after a wonderful breakfast and conversation with other guests staying at the Black Lantern, I drove over to the Hawthorne School in Brunswick to meet with the Chamberlain Days group. At Hawthorne, we boarded a bus to take us to Bangor and Brewer, Maine.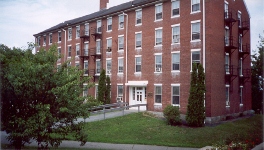 "Maine Hall", Bangor Theological Seminary, Bangor, ME.
In Bangor, known as the "Queen City", we visited the Bangor Theological Seminary, the second alma mater of Joshua Chamberlain. When we arrived at the seminary, its president, Reverend William Imes, met us. He gave us an introduction speech, and a tour of "Maine Hall", which was part of the seminary when Chamberlain and his younger brother John were both students there. Reverend Imes also lives in the home of Hannibal Hamlin, and was so kind in allowing us to tour the home, which still contains items from the Hamlin family. Hannibal Hamlin served as Abraham Lincoln's Vice President during his first term.

Lunch was held in the former gymnasium of Bangor Seminary. After enjoying a box lunch, a lecture by author and historian Daniel Hoisington followed. Mr. Hoisington spoke about Joshua Chamberlain's brother John, and the Christian Commission. He is the author of "A Thousand Nameless Acts: John Chamberlain and the Christian Commission". Mr. Hoisington had done some in-depth research, and utilized the writings of John Chamberlain and a slideshow for his presentation.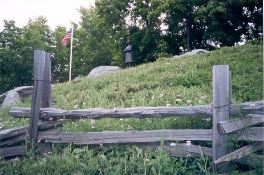 Looking up at the statue of Joshua Chamberlain, in the new "Chamberlain Freedom Park" in Brewer, ME.
After the lecture, we boarded the bus to cross over the Penobscot River to Brewer, birthplace and childhood home of Joshua Chamberlain. We first made a quick stop at "Freedom Park". I have to "give it up" for the bus driver, who made a tough turnaround in a crowded gas station lot! At Freedom Park, which is built on a hill representing Little Round Top, stands a statue of Joshua Chamberlain -- the first statue of the hero in Maine. At the bottom of the hill, there is a memorial to the Underground Railroad.

From Freedom Park, we traveled to the birth home and childhood home of Chamberlain. Time was running late, so we cut out the trip to the Brewer cemetery to see Chamberlain's parents and three siblings.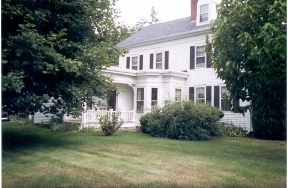 Joshua Chamberlain's childhood home. It's now a private residence.
Brewer, ME
Photo by Bobby Grenier
Thursday's events were not over, as we met back at the First Parish Church Vestry for a spirited discussion on Harriet Beecher Stowe's book "Uncle Tom's Cabin". A few weeks before the festivities, everyone attending the group discussion received excerpts from the book, to prepare for this discussion.

Professor Elizabeth Leonard of Colby College, Waterville, Maine, led the discussion. She teaches 19th-century US and women's history. She is also an author, and does extensive research. She was an excellent moderator for a discussion that could, and did, have many schools of thought from the various participants.

Friday morning's program at the First Parish Church Vestry featured the very popular author, historian and lecturer Tom Desjardin, author of "Stand Firm Ye Boys from Maine: the 20th Maine and the Gettysburg Campaign". His lecture would turn out to be the most attended speech of the symposium. Mr. Desjardin is an eleventh-generation Mainer. He served on the National Park Service staff at Gettysburg, and is currently the Historic Site Specialist in Maine's Bureau of Parks and Lands. Tom Desjardin, like James Trulock, has also made appearances on television -- such as in The History Channel's "Civil War Combat" episode on the battle of Little Round Top. Tom Desjardin's lecture was titled "The Colonel and the Captain: the Chamberlain-Spear Controversy". Mr. Desjardin shared his views of Chamberlain's and Ellis Spear's feelings towards each other, which has been the subject of much debate amongst historians.

Friday afternoon at the Vestry was once again the site for the next event. Mr. Craig Caba, a very fine historian, brought over with him from Gettysburg some very fine artifacts from the Wert Collection. An interesting presentation, with some valuable historical items. Mr. Caba has been the curator for the Wert Gettysburg Collection since 1967. A Professor Wert, who documented relics as he picked up the debris from the battle in 1863, founded the private collection. Mr. Caba has published seven books on memorabilia.

During the "Chamberlain Days" symposium, scaffolding surrounded the First Parish Church -- which is undergoing major exterior renovation. On Friday evening, a couple hundred people gathered in the Sanctuary for the dramatic performance of "Soldier, Come Home". The play was written by Frank Wicks, and was based on letters written by his great-grandparents, Philip and Mary Pringle, during the Civil War. The play starred Rock Bergeron, Jack Mahoney, Jessica Peck, Bill Steele and Hamish Strong. The male players were dressed in tuxedoes, as opposed to period costumes, which kept the focus on the letters, and the emotions exuded in them. Jessica Peck wore a stunning dress, and delivered a dramatic performance. I very much enjoyed this theater project; I even sat in the pew once occupied by Joshua and Fannie Chamberlain, and their children.

Saturday was a free day to enjoy other happenings around Brunswick; there was the Maine Street Festival, as well as the Androscoggin River Regatta. I started out the day by walking into town from Topsham, and going to the Pejepscot Historical Society to take a tour of the Skolfield-Whittier House. This Victorian home is a virtual time capsule -- in 1925, the house was sealed, and the family's possessions remained undisturbed.

The Skolfield family was a wealthy maritime family; they transported cotton from Alabama to England. George Skolfield had built the home in 1858, for two of his sons, Samuel and Alfred. When I took the guided tour of the home, I couldn't believe all the items still remaining inside. The interior looks like it did, when the Skolfields and Whittiers lived there. I highly recommend a visit to this historic place, when you're visiting Brunswick.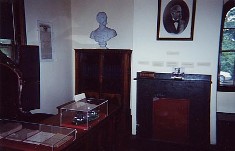 \
This picture was taken during Bobby's visit to "Chamberlain Days" in August 2001. It's of the interior of Chamberlain's study.
Joshua L. Chamberlain Museum, Brunswick, ME
After the tour, I continued my walk about town, and visited Joshua Chamberlain's home. It was wonderful to see George Pickering at his post in the Chamberlain gift shop. I had a wonderful visit, chatting and laughing with George, before and after taking a tour of the home. Author Diane Monroe Smith was also at the Chamberlain House, giving tours and signing copies of her book, "Fanny & Joshua: The Enigmatic Lives of Frances Caroline Adams and Joshua Lawrence Chamberlain". I bought a signed copy for my father. I also had a wonderful conversation with Diane about her book -- as well as my book about Captain Melton Haynes. I highly recommend Diane's Monroe Smith's book.

(NOTE: Bobby has just published a book about this Florida-born officer in the Civil War; it's entitled "Florida's Forgotten Pioneer: The Gallant Captain Melton Haynes". He is also involved in trying to save Captain Haynes' home, "Woodlea", in Florida, and turn it into a museum.

(UPDATE: Sadly, several weeks ago--in late 2007--, some arsonists torched "Woodlea" in the middle of the night, and burned the house to the ground. It is unknown whether the house will be rebuilt.)

After spending a couple of hours at Chamberlain's home, I ventured over to the Curtis Memorial Library to listen to the ballads of singer Joe Bennett, of Bangor, Maine. He sang songs from his CD, including "The Ballad of the Twentieth Maine". Joe performed a new song he has yet to record, entitled "Joshua", written in honor of the Chamberlain statue in Brunswick. Joe needs to get this song recorded and available for sale -- it is very good!

I walked back to the Black Lantern in Topsham, relaxed for a while, and then drove to another Maine town that begins with a "B" -- called Bath. The symposium's final get-together was held at the "Taste of Maine" restaurant, where we had some mouth-watering lobster. It was a great opportunity to say so long to everyone. I was happy that Deborah Smith brought her husband Reggie to the dinner; I had the honor of sitting at the same table with Deborah, Reggie, Chamberlain family members, and Craig and Sharon Caba. I sat across from Sharon Caba, and had a delightful conversation with her throughout dinner.

At the end of the evening, I walked out to the parking lot with Julia Colvin -- having my first opportunity to say hello during this trip. Julia is a highly talented researcher and historian, as well as a quality person.She is also very enjoyable to talk with.

(NOTE: Julia is the former curator at the Chamberlain Museum. I met her myself during my first visit to Maine in 1997, and I can vouch for Bobby's assessment of her. She is a wonderful lady, indeed!).

It was kind of sad driving back to the Black Lantern, because I knew that I had to rise early Sunday morning to catch a flight out of Portland. On Sunday morning, Judy left me a bag of snacks on the kitchen counter for me, and a real sweet note. I just can't wait until I visit them again.

The people I spent these days with were wonderful. All the people who work for the Pejepscot Historical Society are terrific. The Society's curator, Kate Higgins, was terrific, and I really enjoyed the time I was able to chat with her.

I was so very happy to spend time with Margaret Pullen. She is a gracious lady, with a great attitude and high spirits. She always made me smile.

PHS Executive Director Deborah Smith was awesome. She is very, very good at her job. She is also a great emcee, and has extensive knowledge of history. She is a high quality person, and I am proud to call her a friend. Deborah and the PHS put together an amazing symposium.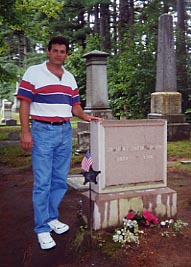 Another picture of Bobby, from his August 2001 Maine visit, at Chamberlain's grave.
Pine Grove Cemetery, Brunswick, ME.
The General would have been so proud!
I can't thank Bobby enough, for allowing me to post the description of his trip on my site!
If you've had a similar trip to Maine (whether it was during Chamberlain Days or not), and would like to share it with other fellow JLC admirers--please email me! And if you have pictures of your visit to go with the text, send those along as well. THANKS!
NOTE: This Web site is Copyright © 1999- 2009 Pat Finnegan. All rights reserved.

DO NOT use any written material, or photographs, without first contacting me in writing. If you do not do this, be assured that legal action will be taken.

THANK YOU!
QUESTIONS? COMMENTS? SEND ME AN
EMAIL!