TO THE LIMITS OF THE SOUL'S IDEAL:
'THE CIVIL WAR'S SPECIAL HERO':
AN ORIGINAL POEM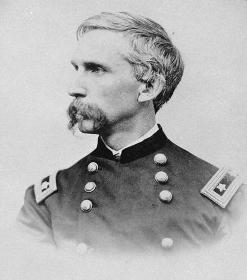 :Major General Joshua Lawrence Chamberlain"
Photo attributed to Mathew Brady.
Just recently, I received the following original poem, from a gentleman named Joe Fabel, who lives in California. He presented it, and an original essay, at the monthly meeting of his Civil War Round Table, in Elk Grove, California. When I read both pieces, I asked if he would consent to having them placed on the Web site. To my delight, he graciously gave permission to do so. And I thank him for that, very much!
I have put Mr. Fabel's essay, "A Special Someone to Know", on the "Chamberlain Admirers" page. His poem is presented below:
THE CIVIL WAR'S SPECIAL HERO
By Joe Fabel
Paternal ancestors of true warrior bent
Influenced our Lawrence J. Chamberlain.

Mix in well the environment of ministry,
That call to be God?s chosen instrument.

Attendance at parlor readings by Stowe
Where the evil of slavery was bestowed.

What took root intellectually and morally
Within the mind and soul of our soldier to be?

Intentionally hiding his decision to enlist
From questioning faculty and spousal bliss.
Our Joshua quietly joins the legions of Union
Sympathizers to fight boldly against Disunion.

Battles fought, leadership given, wounds received,
Engagements against the rebels dutifully conceived.

Assigned a most honored place at the surrender,
Joshua Chamberlain's treatment was most tender.

His former foe found his professional respect
A sign of military courtesy he didn't expect.

Upon discharge from his military generalship,
He chooses citizen service in a governorship.

Four terms of public and demanding contributions
Were followed by college presidential convolutions.

Oh yes, his service is idolized in Ken Burns' picture,
A rendering of his Little Round Top charging posture.
Without any reserve our Chamberlain is praised,
A beloved warrior upon whom we fondly gaze.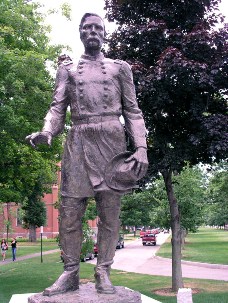 Statue of General Joshua Lawrence Chamberlain, located near the campus of Bowdoin College, Brunswick, ME.
Photo by Mindy Eckler.
Do not use without my express written permission.
If you have an original poem or essay you would like to see on this site, please feel free to email them to me. Use the link below. Thank You!