TO THE LIMITS OF THE SOUL'S IDEAL:

POST-GETTYSBURG TO THE GRAND REVIEW
POST-GETTYSBURG
Not long after Gettysburg, in August 1863, Chamberlain was given permanent command of the Fifth Corps' Third Brigade, by General Griffin. He did not hold command for long, though--the accumulating stress and strain finally broke his health, and he went to Washington at the end of July, and eventually back to Maine for fifteen days' sick leave. He returned to the field in August, back to command of the Third Brigade--still as a Colonel, although Generals Griffin, Ames, and Oliver O. Howard--and even Vice President Hannibal Hamlin, a fellow Mainer--actively campaigned for Chamberlain's promotion to Brigadier General. But nothing came of all these recommendations--supposedly because of an active dislike of the Fifth Corps by some of the "powers-that-be" in Washington, going back to the days of Generals Fitz John Porter and George McClellan.
In November 1863, while camping out in a snowstorm, Chamberlain came down with a recurrence of "malarial fever"; he spent two months recovering from this, and returned home to Maine for December and January. In February 1864, Chamberlain was assigned to court-martial duty in Washington DC, and in Trenton, New Jersey. It wasn't long before such duty began to wear on him, and he began actively campaigning for a return to field duty.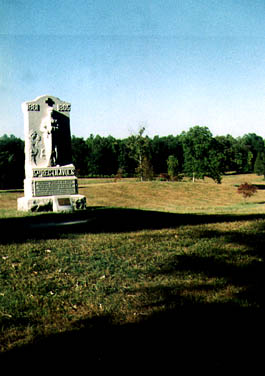 "The Bloody Angle", near Spotsylvania Court House, VA.
On yet another gorgeous Virginia fall day, Cheryl and I were able to walk around this peaceful field, looking at the remains of trenches, and the foundation of the building that served as the Union Second Corps' headquarters. Hard to believe this field was the site of some of the most vicious fighting in the entire Civil War!
Chamberlain himself did not fight at "The Bloody Angle" (also known as "The Mule Shoe"); he just missed the fighting here and in the nearby Wilderness--although the 20th Maine fought in the latter fight, and took a beating. Chamberlain did get into the fight at nearby Pole Cat Creek, however.
"...the Wilderness, Spotsylvania, the North Anna, Cold Harbor...unspoken, unspeakable history. Call back that roseate May morning, all the springs of life athrill, that youthful army pressing the bridges of the Rapidan, flower of Northern homes, thousands upon thousands; tested in valor, disciplined by experience, hearts swelling with manly courage, confident trust, and supreme devotion--to be plunged straightway into hell-like horrors..."
(1)
"The hammering business had been hard on the hammer."(2)
PETERSBURG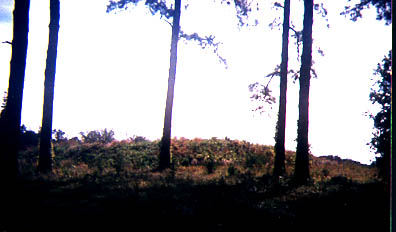 Remains of Confederate fortifications, near Petersburg, VA.
I use this picture to represent the extensive trenches and fortifications that once enveloped Petersburg, VA--site of an almost-ten month siege, from June 1864 to March 1865. For myself, I was struck by how extensive these "forts" were. They were made mostly of earth, and are now overgrown with trees and brush.
In early June 1864, Chamberlain was given command of the Fifth Corps' newly-reorganized First Brigade, consisting of five veteran Pennsylvania regiments from the now-gone First Corps: the 121st, 142nd, 143rd, 149th, and 150th--and a brand-new regiment, the 187th Pennsylvania. This brigade became known as the "Keystone Brigade". At first, there was some suspicion regarding this new brigade commander, but Chamberlain won the men over after meeting all the officers of the brigade.
About mid-June, Chamberlain found he could not shake a nagging feeling that he would be wounded in the abdomen. It was a new feeling for him, but he dealt with it by taking his blanket roll from behind his saddle and strapping it in front of him--such little protection as it was.
Sadly, that "feeling" would come true on June 18, 1864. His "Keystone Brigade" found itself in an exposed position--out in front of the whole Army of the Potomac!--facing a bluff on high ground called "Rives' Salient". Ordered to attack this position alone, Chamberlain thought there must be some mistake. To attack as ordered would be suicide, indeed. He wrote a note to his superiors, hoping they would understand his particular situation:
"...Circumstances lead me to believe the General cannot be perfectly aware of my situation, which has greatly changed within the last hour...I am advanced a mile beyond our own lines, and in an isolated position...I have here a veteran brigade of six regiments, and my responsibility for these men warrants me in wishing assurances that no mistake in communicating orders compels me to sacrifice them. From what I can see of the enemy's lines, it is my opinion that if an assault is to be made, it should be by nothing less than the entire Army."
(3)
After a somewhat difficult exchange with Brigadier General Lysander Cutler (who had been ordered to support Chamberlain's exposed left flank), Chamberlain went back to his men. The attack began shortly thereafter. Chamberlain led his men on foot, made a half-turn towards his line, motioning with his saber for his men to turn left (because of the din of battle, no one could hear shouted commands). At that moment, a ricocheting minie ball struck Chamberlain below his right hip and went through his body, expanding and tearing while traveling diagonally to his left hip, before stopping near the surface. The initial pain he felt was in his back, and his first thought was:
"What will my mother say, her boy shot in the back?"
(4)
But as he saw the blood gushing from both sides, he felt better--oddly enough. Fearing his men would falter if they saw him go down, he rammed his saber point into the ground and leaned against it, holding himself upright. Once his men were past, the loss of blood became too much, and Chamberlain fell on one knee, then the other, and finally collapsed to the ground. Two of his staff officers managed to pull him off the field, but he lay in the dirt for over an hour, feeling his blood seep into the ground, and hearing the cries of his men as they went to the slaughter.
"I am not of Virginia blood; she is of mine."
(5)
Chamberlain was finally removed from the field on a stretcher, borne by four men from Captain John Bigelow's Ninth Massachusetts Artillery. When these men came to his side, Chamberlain told them to leave him be, believing himself to be mortally wounded. One of the artillerymen replied:
"You are not in command, Sir. Captain Bigelow's order to us was to bring you back, and that is what we must do."
(6)
The 20th Maine, for its part, did not participate in the attack this day. But Captain Tom Chamberlain learned of his brother's wounding, and set off to find him, accompanied by the 20th's surgeon, Dr. Abner O. Shaw, and the 44th New York's surgeon, Dr. Morris Townsend. Tom and the surgeons searched for Chamberlain for hours, finally locating him at the Division field hospital, three miles behind the lines. They were told Chamberlain would not survive--the minie ball had done tremendous damage; it severed blood vessels, nicked the urethra and bladder and crushed bone before it stopped. That night, both General G.K. Warren (Fifth Corps commander) and General Griffin visited Chamberlain and told him their recommendation for promotion to Brigadier General would be forwarded immediately. That pleased Chamberlain greatly; the promotion would gratify his family and friends.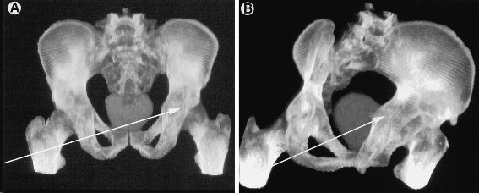 No--these are NOT x-rays of Chamberlain's hip region! But it does illustrate the path the bullet traveled, and what areas of his lower body were most affected.
Photo sent by David James.
Do not copy without his express written permission.
All night Doctors Shaw and Townsend labored, trying to save Chamberlain's life. At one point, they stopped, believing they were only prolonging his agony. But Chamberlain, with a great will to live, urged them to go on. The bullet was removed, and the doctors managed to patch him back together again, concluding that there was a chance for recovery.
The next day, in spite of horrible pain and believing he was on his deathbed, Chamberlain wrote this letter to Fannie:
"My darling wife I am lying mortally wounded the doctors think, but my mind & heart are at peace Jesus Christ is my al-sufficient savior. I go to him. God bless & keep & comfort you, precious one. You have been a precious wife to me. To know & love you makes life & death beautiful. Cherish the darlings & give my love to all the dear ones. Do not grieve too much for me. We shall all soon meet Live for the children Give my dearest love to Father, Mother & Sallie & John Oh how happy to feel yourself forgiven God bless you evermore precious precious one Ever yours, Lawrence."
(7)
Chamberlain was eventually transferred to City Point, VA, via stretcher, then placed on a hospital ship by Dr.Townsend, and taken to the Naval Hospital at Annapolis, MD. The news of his wounding and critical condition finally reached Maine, and it threw his family and friends into a state of frenzy. His mother, his sister Sae, and Fannie's new stepmother Helen Root Adams, alternately cried and prayed for Chamberlain's recovery. His brother John hurried to Annapolis, when news of his brother's condition came. By the time John arrived, however, the crisis period had passed, and Chamberlain began to heal quickly.
If anything good can be said to have come out of this situation, it did--in the form of the long-delayed promotion to Brigadier General, by no one other than Lt. General U.S. Grant himself. Grant later told Chamberlain that he'd never made a promotion on the field of battle before. Grant wrote:
"Col. J.L. Chamberlain, of the 20th Maine, was wounded on the 18th. He was gallantly leading his brigade at the time, as he had been in the habit of doing in all the engagements in which he had previously been engaged. He had several times been recommended for a Brigadier-Generalcy for gallant and meritorious conduct. On this occasion, I promoted him on the spot..."
(8)
In September 1864, Chamberlain was sent home to Brunswick, to recover. But he was anxious to return to the field, to "finish the business". Remarkably, he did return to Petersburg on November 18--although still unable to ride a horse, or walk unassisted a hundred yards. On his arrival, he discovered that his old First Brigade command broken up and scattered. Instead of five Pennsylvania regiments, he now commanded two new regiments: the 185th New York and the 198th Pennsylvania. His brigade had gone from the largest in the Fifth Corps, to the smallest.
Chamberlain and his brigade participated in the "Weldon Railroad Raid", which was intended to further cut supplies to Lee's army around Petersburg. But the strain of this short campaign made Chamberlain realize he'd come back to the field too soon, and he underwent further surgery on his wounds in Philadelphia, in January 1865--and he headed once more back to Maine to recover.
During his recovery period, Chamberlain was offered a tempting position as Collector of Customs for the District of Bath. He thought about it carefully, but decided to return to the army, if possible. Naturally, his family opposed his return--his mother, in a New Year's letter, begged him to take care of himself. But in a letter to his parents the day before he returned to the army, Chamberlain attempted to explain his motives for going back:
"
I owe the Country three years service. It is a time when every man should stand by his guns. And I am not scared or hurt enough yet to be willing to face the rear, when other men are marching to the front. It is true my incomplete recovery from my wounds would make a more quiet life desirable, & when I think of my young and dependent family the whole strength of that motive to make the most of my life comes over me. But there is no promise of life in peace, & no decree of death in war. And I am so confident of the sincerity of my motives that I can trust my own life & the welfare of my family in the hands of Providence."
(9)
LAST CAMPAIGN, MARCH - APRIL 1865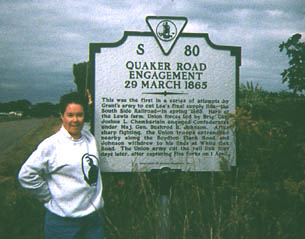 Me, standing by the Virginia state historical marker, at the site of the Quaker Road battle, outside Petersburg, VA.
Photo taken by Cheryl Pula.
This is me, standing by the marker. The moment Cheryl and I saw this marker, I became quite excited! If you look close, you can see Chamberlain's name on the fifth line down. Off to the right of the sign was the field of the Lewis Farm, where the fight took place. One could still see an old farm building, hidden by some trees in the middle of the field.
I shall let Chamberlain himself tell the story of the fight at the Quaker Road, March 29, 1865:
"...In the full crescendo of this, now, close to the sawdust pile, my horse, wild to the front....was exceeding the possible pace of the men following and I gave him a vigorous check on the curb. Resenting this, he touched his fore feet to earth only to rebound head-high to the level of my face. Just at that instant a heavy blow struck me on the left breast pocket just below the heart. I fell forward on my horse's neck and lost all consciousness. The bullet at close range had been aimed at my breast, but the horse had lifted his head just in time to catch it, so that, in passing through the big muscle of his neck (and also may I say, through a leather case of field orders and a brass-mounted hand-mirror in my breast pocket), demolished the pistol in the belt of my aide Lt. Vogel, and knocked him out of the saddle. This, of course, I only knew afterwards. The shock had stopped my horse, and I must have been for some little time unconscious."
(10)
Chamberlain was covered with blood--both his own and his horse, Charlemagne's. He must have looked frightful to General Griffin, who came up and offered a supporting arm.
"'My dear General, you are gone', the kindly voice of General Griffin, who had ridden up beside me. At that moment also a very different strain struck my ear on the other hand--a wild Rebel yell. As I lifted my head a glance showed me the right of our line broken and flying before the enemy...This explains my answer to Griffin, "Yes, General, I am--" that is, 'gone in another sense'".
(11)
The bullet had ripped through Chamberlain's sleeve to the elbow, and injured his bridle arm, and traveled around his ribs before going out the back seam of his coat. Had it not struck the field orders book and the hand mirror in his pocket, and had not Charlemagne reared up when he did, it would surely have killed Chamberlain.
"...The horse was bleeding profusely and my falling on his neck brought a blood-relationship of which I was not ashamed. Everybody around thought I was 'gone' indeed, and that is why a telegram went to the New York morning papers, reporting me as killed...I must have been a queer spectacle as I rose in the saddle tattered and battered, bare headed and blood-smeared..."
(12)
Chamberlain did Mark Twain one better: he got to read his obituary TWICE! First, after his wounding at Petersburg in June 1864, and now at the Quaker Road, in March 1865!
Chamberlain saw what needed to be done--he and Charlemagne dashed into the fight, rallying his men and turning the tide of the battle. And then a strange thing happened...
"
Aware of some confusion near the sawdust pile I thought it fitting to return to my place at the center. I was astonished at the greeting of cheers which marked my course. Strangest of all was that when I emerged to the sight of the enemy; they also took up the cheering. I hardly knew what world I was in."
(13)
Chamberlain's dash had by now exhausted poor Charlemagne, so Chamberlain was forced to dismount. Moving closer to the front, he was suddenly confronted by Confederate soldiers, who wished to take him prisoner. He realized he had to think fast:
"The old coat was dingy, almost to gray; I was bare-headed, and rather a doubtful character anyway. I thought it warrantable to assume an extremely friendly relation...I replied, "Surrender? What's the matter with you? What do you take me for? Don't you see those Yanks right onto us? Come along with me, and let us break 'em!"...They did follow me like brave fellows--most of them too far; for they were a long time getting back."
(14)
The battle for the Quaker Road was over--but at a great cost. In the course of the battle, Chamberlain lost one of his subordinates, a young man from Philadelphia named Major Charles Maceuen. In fact, he had been shot down literally before Chamberlain's eyes. After the battle was done, Chamberlain walked around the field, until he found the young officer's body:
"At length I kneeled above the sweet body of Maceuen, where God's thought had folded its wing; and nearby, where wrecks were thickly strewn, I came upon brave old [General Horatio] Sickel lying calm and cheerful, with a shattered limb, and weakened by loss of blood...I sat down by him to give him such cheer as I could. He seemed to think I needed the comforting...'General', he whispers, 'you have the soul of the lion and the heart of the woman'. 'Take the benediction to yourself', was the reply; 'you could not have thought that, if you had not been it'".
(15)
For myself, I wonder what was going through Chamberlain's mind, as he surveyed the grisly scene before him:
"But we had with us, to keep and care for, more than five hundred bruised bodies of men--men made in the image of God, marred by the hand of man, and must we say in the name of God? And where is the reckoning for such things? And who is answerable? One might almost shrink from the sound of his own voice, which had launched into the palpitating air words of order--do we call it?--fraught with such ruin. Was it God's command we heard, or His forgiveness we must forever implore?"
(16)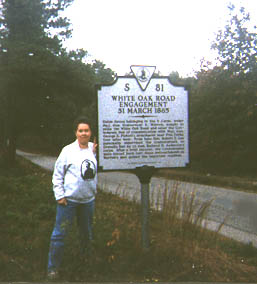 Me, standing by the Virginia state historical marker, describing the battle of the White Oak Road, outside Petersburg, VA.
Photo taken by Cheryl Pula.
It didn't take Cheryl and I long to reach this spot from the Quaker Road--probably no more than ten minutes. I was struck by how narrow the actual road was; and it was probably no wider now than it was in 1865!
It rained the night of March 29, 1865--so much so it turned the unpaved roads to thick goo, making it impossible for either army to move. The fight resumed March 31, and grew in intensity. At one point, the Fifth Corps' Second and Third Divisions were hit hard by a surprise Confederate attack:
"...General Griffin and General Warren came down at full speed, both out of breath, with their efforts to rally the panic-stricken men...Griffin breaks forth first, after his high-proof fashion: 'General Chamberlain, the Fifth Corps is eternally damned'. I essayed some pleasantry: 'Not till you are in Heaven'. Griffin does not smile nor hear, but keeps right on: 'I tell Warren you will wipe out this disgrace, and that's what we're here for'. Then Warren breaks out, with stirring phrase...'General Chamberlain, will you save the honor of the Fifth Corps? That's all there is about it'...I mention[General Joseph] Bartlett, who had our largest and best brigade, which had been little engaged. 'We have come to you; you know what that means', was the only answer. 'I'll try it, General; only don't let anyone stop me except the enemy.'"
(17)
In the ensuing action, Chamberlain's small brigade not only took the lost ground back, but also a little extra. But the battle proved to be the beginning of the undoing of Fifth Corps commander General Warren. Due to many conflicting communications (and some bruised egos), matters were coming to a head, and the next day would bring personal disaster to a brave officer.
Me, at the marker for the battle of Five Forks, outside Petersburg, VA.
Photo taken by Cheryl Pula.
When I first heard about this pivotal battle--sometimes called the "Waterloo of the Confederacy"--I thought it was fought near a town called "Five Forks". But it's not--it's a place where, literally, five roads come together! I couldn't get over that....
This battle, which marked the real "beginning of the end" of the Confederacy, also marked the beginning of an ongoing controversy: General Philip Sheridan's removal (with General Grant's apparent approval) of General Gouvernour K. Warren, as commander of the Fifth Corps. (Warren would be replaced by First Division commander General Griffin, and subsequently Chamberlain, as First Brigade commander, would step up and take Griffin's place as First Division commander.) Sheridan did not want the Fifth Corps as his cavalry's infantry support; he really wanted the Sixth Corps. But the latter was too far away to be recalled, so "Little Phil" had to settle for the Fifth Corps.
"...Somewhere near the angle of the 'return', I met Sheridan. He had probably seen me putting my men in, and hence I escaped censure for appearing. Indeed his criticism seemed to be that there was not more of me, rather than less. 'By G--, that's what I want to see!', was his greeting, 'general officers at the front. Where are your general officers?' I replied that I had seen General Warren's flag in the big field north of us, and that seeing [General Romeyn] Ayres in a tight place I had come to help him, and by General Griffin's order. 'Then', cried he...'you take command of all the infantry round here, and break this dam-' I didn't want to hear any more. That made good grammar as it stood."
(18)
The fighting intensified in front of Chamberlain's First Division, near the 198th Pennsylvania, commanded by Major Edwin Glenn. Chamberlain saw him and Colonel Gustavus Sniper, of the 185th New York, on the flank of Rebel guns at the Five Forks works. What happened next would haunt Chamberlain for the rest of his life:
"I rode up to the gallant Glenn...and said, 'Major Glenn, if you break that line, you shall have a Colonel's commission!' It was a hasty utterance, and the promise unmilitary, perhaps...Glenn sprung among his men, calling out, 'Boys, will you follow me?', wheeled his horse, and dashed forward, without turning to see who followed...The sight so wrought upon me that I snatched time to ride over and congratulate Glenn and his regiment. As I passed into deeper shadow of the woods, I met two men, bearing his body, the dripping blood marking their path...I could only bend down over him from the saddle and murmur unavailing words. 'General, I have carried out your wishes!'--this was his only utterance. It was as if another bullet had cut me through. I almost fell across my saddle-bow. God in Heaven, no more my wish than Thine, that this fair body...should be smitten to the sod...?"
(19)
The thought that he had ordered Major Glenn to such a needless death cut through Chamberlain like a knife:
"What dark misgivings searched me as I took the import of these words? What sharp sense of responsibility for those who have committed to them the issues of life and death? Why should I not have let his onset take its general course and men their natural chances? Why choose out him for his death, and so take on myself the awful decision into what home irreparable loss and measureless desolation should cast their unlifted burden? The crowding thought choked utterance. I could only bend my face low to his and answer: 'Colonel, I will remember my promise; I will remember you!'...War!-nothing but the final, infinite good, for man and God, can accept and justify human work like that!"
(20)
After the battle, Chamberlain kept his promise: he sent, by special messenger, his recommendation for Glenn's brevet promotion. Glenn died three days later, a Brevet Colonel of U.S.Volunteers.
With the Union victory at Five Forks, the way was open for the capture of both Richmond and Petersburg. General Grant ordered an all-out attack on the Confederate lines at Petersburg, which broke through, and forced the evacuation of Richmond by the Army of Northern Virginia. Thus began the great last pursuit of the Army of Northern Virginia--or what was left of it. Chamberlain and the rest of the Fifth Corps joined the AOP in that pursuit, but fought no major battle, missing the action at Sailor's Creek. There was one amusing incident, involving Chamberlain and his faithful, battle-scarred horse Charlemagne, that happened on April 8th:
"This morning I received a wholesome lesson of the results of inattention. In crossing Buffalo River, my horse had a pardonable desire to take a drink. I let him advance half his length into the water, knee-deep or more--which I thought enough, but with the unaccountable instinct of a drinking horse (or other fellow) to get further in, to 'take another', my horse kept creeping forward, and I was stupid enough to let him--until suddenly stepping over a steep bank of the channel his whole body was forced to follow, as also his master,--or who should have been. Decidedly all was not over--mostly the reverse; two emergent heads absurdly trying to look dignified marking the vital center...The horse, not being a Saurian, could neither walk nor swim in that mire...I got out first--having only two feet to hold me fast...two ore three of my self-renouncing....men went to the rescue of the crest-fallen, but still-admired, Charlemagne. What they had to do for us both afterwards, official dignity prevents explaining."
(21)
APPOMATTOX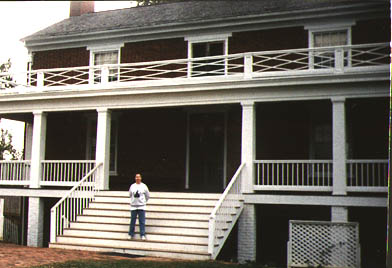 Me, standing in front of the Wilmer McLean house, site of the Confederate surrender, April 9, 1865, Appomattox Court House National Historical Park, VA.
Photo taken by Cheryl Pula.
The day Cheryl and I visited Appomattox Court House, there were but a handful of visitors about. I remember going into the McLean House and looking into the parlor, where Generals Grant and Lee met. As I looked inside, I could not believe how small the room was! The paintings of the scene all made it look so huge.
After an all-night march, the weary men of the Fifth Corps--along with the Second and Sixth Corps--finally cornered what was left of the Army of Northern Virginia, near the village of Appomattox Court House. Sheridan's cavalry had been fighting a pitched battle with the Confederates, and needed assistance from any available infantry. Chamberlain was concerned he would be receiving a flank attack himself, when suddenly he sees a sight he never expected to see:
"Suddenly rose to sight another form, close in our own front--a soldierly young figure, a Confederate staff officer undoubtedly. Now I see the white flag, earnestly borne, and its possible purport sweeps before my inner vision like a wraith of morning mist. He comes steadily on...my mood so whimsically sensitive that I could even smile at the material of the flag--wondering where in either army was found a towel, and one so white. But it bore a mighty message--that simple emblem of homely service, wafted hitherward above the dark and crimsoned streams that never can wash themselves away."
(22)
Unknown to either Chamberlain or his men, a truce had been called.
"The messenger draws near...delivers his message: 'Sir, I am from General Gordon. General Lee desires a cessation of hostilities until he can hear from General Grant as to the proposed surrender."
(23)
Chamberlain is stunned by the word: "Surrender!" He thinks of how many times it was so close, yet snatched away--how often dreamed of, but never realized. He comes to his senses long enough to reply:
"'Surrender?' It takes a moment to gather one's speech. 'Sir', I answer, 'that matter exceeds my authority. I will send to my superior. General Lee is right. He can do no more'...I bid him wait a while, and the message goes up to my Corps commander, General Griffin, leaving me mazed at the boding change."
(24)
Yes, the flag of truce had come in, but just then a loud cannon-shot from the direction of Appomattox crashes into the Union line, killing Lt. Hiram Clark of the 185th New York--a young officer in Chamberlain's brigade, whom he admired very much. Clark became one of the last men killed in the Army of the Potomac.
As news of the surrender spreads, however, the Union troops go absolutely nuts--loud cheers erupt, men jump up and down, caps and knapsacks fly upward. Finally, after four long years, the war is over.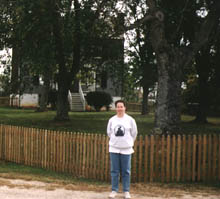 Me, standing in front of the "Peers House", near the "Surrender Triangle", Appomattox Court House National Historical Park, VA.
Photo taken by Cheryl Pula.
Cheryl and I strolled through this reconstructed village, peeking into various buildings. But when we got to this corner, I wanted to burst into tears. I had seen a painting by artist Don Troiani in the old courthouse, which depicted the surrender ceremony--and which showed Chamberlain and his men positioned near where I now stood. I was seized by the thought: "He was here! He was here!" "He", meaning Chamberlain.
Speaking of the "Peers House": I have a friend who works at Appomattox Court House, named Patrick Schroeder. He is the Park Historian there--and he also portrays George Peers, who lived in the above house. Peers was a prominent Appomattox citizen. And on a recent visit to Syracuse, Patrick shared the following anecdote about Mr. Peers, and Joshua Lawrence Chamberlain:
While Chamberlain and his men were camped in the Appomattox area, George Peers--a citizen of Appomattox--invited Chamberlain to dine with him. Years after the war, Mr. Peers renimisced to a writer about that meal. He spoke very highly of Chamberlain. And he was especially grateful to the General for bringing REAL COFFEE, which was a wartime scarcity in the South!
Although the surrender itself was signed April 9, 1865, General Grant had decided that a surrender ceremony should be held, in order to make certain to the former Rebels that, indeed, the war was over. They were to hand over their weapons and their battle colors, but keep their sidearms and their horses. A surprise, and a great honor, was in store for Chamberlain:
"Late that night [April 9], I was summoned to headquarters, where General Griffin informed me that I was to command the parade on the occasion of the formal surrender of the arms and colors of Lee's army...Griffin added in a significant tone that Grant wished the ceremony to be as simple as possible, and that nothing should be done to humiliate the manhood of the Southern soldiers."
(25)
So it happened that this VOLUNTEER OFFICER was chosen by General Grant himself, out of all the officers (volunteer AND Regular army) in the Army of the Potomac, to receive the "arms and colors" of the Army of Northern Virginia. In later years, when asked why he thought he'd been chosen for this honor, Chamberlain would say that he figured General Griffin had something to do with it. Upon hearing this news, Chamberlain asked the new Fifth Corps commander one thing: he wanted to be given the First Division's Third Brigade--which included the 20th Maine--because he had shared so many battles with them, and wanted them beside him, in this historic hour. Griffin agreed, and transferred Chamberlain to the Third Brigade.
The ceremony took place three days later, on April 12, 1865--four years to the day since the first shots were fired on Fort Sumter, South Carolina.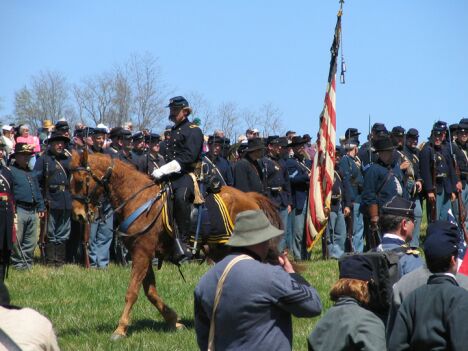 No--there was no color photography at Appomattox in April 1865! This picture was taken at the 140th anniversary reenactment at Appomattox, VA, in April 2005. The reenactor certainly looks like Chamberlain. And I think it gives one a great idea, of what the moments before the ceremony must have been like.
Special thanks to my friend Mindy Eckler, for sending me this photo--and to my dear friend Thomas Fleming for reducing the size for me!
Do not use without Mrs. Eckler's written permission.
"It was now the morning of the 12th of April. I had been ordered to have my lines formed for the ceremony at sunrise. It was a chill gray morning, depressing to the senses. But our hearts made warmth. We formed along the principal street...to face the last line of battle, and receive the last remnant of the arms and colors of that great army which ours had been created to confront for all that death can do for life. We were remnants also: Massachusetts, Maine, Michigan, Maryland, Pennsylvania, New York; veterans, and replaced veterans; cut to pieces, cut down, consolidated, divisions into brigades, regiments into one, gathered by state origin."(26)
Chamberlain now went back to the Third Brigade:
"As for me, I was once more with my old command...I had taken leave of my little First Brigade, so endeared to me, and the end of the fighting had released the Second from all orders from me. But these deserved to share with me now as they had so faithfully done in the sterner passages of the campaign. I got permission from General Griffin to have them also in the parade.."
(27)
The stage was now set. What would happen in the next few minutes would cause some controversy in the North for Chamberlain, but would endear him to the South:
"The momentous meaning of this occasion impressed me deeply. I resolved to mark it by some token of recognition...which could be no other than a salute of arms....The act could be defended, if needful, by the suggestion that such a salute was not to the cause for which the Confederacy stood, but to its going down before the flag of the Union. My main reason, however, was one for which I sought no authority, nor asked forgiveness."
(28)
The Confederates broke camp for the last time, and made their way up the Richmond-Lynchburg Stage Road, to where Chamberlain and his men waited. Leading the way was General Lee's representative: General John B. Gordon--a volunteer officer like Chamberlain, who had also risen through the ranks, and who was also much-wounded in battle:
"Before us, in proud humiliation, stood the embodiment of manhood: men whom neither toils and sufferings, nor the fact of death, nor disaster, nor hopelessness could bend from their resolve; standing before us now, thin, worn, famished, but erect, and with eyes looking level into ours, waking memories that bound us together as no other bond--was not such manhood to be welcomed back into a Union so tested and assured?"
(29)
Chamberlain continues:
"Instructions had been given, and when the head of each division column comes opposite our group, our bugle sounds the signal and instantly our whole line from right to left, regiment by regiment, in succession, gives the soldier's salutation, from the 'order arms' to the old 'carry'--the marching salute. Gordon at the head of the column, riding with heavy spirit and downcast face, catches the sound of shifting arms, looks up, and taking the meaning, wheels superbly, making with himself and his horse one uplifted figure, with profound salutation as he drops the point of his sword to the boot toe; then facing his own command, gives word for his successive brigades to pass us with the same position of the manual--honor answering honor".
(30)
The ceremony continues all day long, as Chamberlain and his men watch the remnants of this once-great army file in, and stack their muskets, and lay their battle-flags down. He sees remnants of storied regiments, brigades, divisions and corps--such as Cobb's Georgia Legion, Bushrod Johnson's Division, Gordon's Georgians, Ransom's North Carolinians, A.P. Hill's old corps--and Longstreet's First Corps! Men whom he faced in battle from Antietam to Five Forks. Emotions ran high on both sides, as men laid down their worn, but much-cherished, battle flags. Chamberlain ended up playing a part in one such instance:
"A small group, evidently the remainder of a regiment used as some headquarters guard, came in last and late, after their comrades had marched away. As they gave up their flag, stained by the blood and smoke of battle, its color-bearer burst into tears and said to the Union soldiers, 'Boys, this is not the first time you have seen that flag; I have borne it in the front of the battle in many a victorious field, and I had rather die than surrender it now'...'Brave fellow', Chamberlain replied, 'I admire your noble spirit, and only regret that I have not the authority to bid you keep your flag and carry it home as a precious heirloom'. Chamberlain's kind words were repeated to others, and the story became widely known throughout the South."
(31)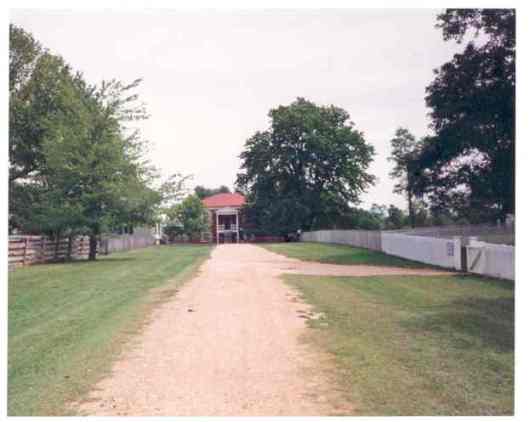 This is the old courthouse building, which today serves as the Visitor Center at Appomattox Court House National Historical Park. It faces one side of the "Surrender Triangle", in the center of the village.
Appomattox Court House National Historical Park, VA.
Photo courtesy of David Lepkowski.
Do not use without his express written permission.
The solemnity and sadness of the occasion was leavened by a rather comic scene, involving a discussion between Chamberlain and Confederate Brigadier General Henry Wise, a former governor of Virginia-and the man responsibile for hanging abolitionist John Brown in 1859. Chamberlain heard a commotion down the line, and went to investigate--and found Wise arguing with some of his men. Chamberlain sought to help the situation, and remarked to Wise that the good conduct of the troops on both sides boded well for the nation's future. Wise became belligerent:
"You are mistaken, Sir, we won't be forgiven. We hate you, and that is the whole of it!"
(32)
As Wise looked at Chamberlain, he noticed the rips and holes in Chamberlain's coat and sleeve--"souvenirs" of his encounter with Wise's men at the Quaker Road--and asked him where he got them. When Chamberlain told him, Wise retorted that he was "fighting three army corps" and "thought it prudent to retire". When Chamberlain told him that he was up against three regiments, Wise angrily replied that he knew what he saw, and proceeded to lecture Chamberlain on the "legal way" to make out paroles! By this time, it had become a bizarre comedy, and staff members on both sides could not control their laughter. In later years, Chamberlain recalled the incident, using a biblical pun--but not mentioning Wise by name:
"'The wise man foreseeth the evil and hideth himself, but the foolish pass on and are punished,' says the old proverb. If there are no exceptions to this rule, then this gentleman was not rightly named."
(33)
Finally, it was done, the long day over.
Many things happened in the days and weeks between Appomattox and the army's return to Washington. While camped outside the town of Farmville,VA, on Easter Sunday, 1865, Chamberlain and the rest of the Fifth Corps received the shocking news of the assassination of President Lincoln on April 14. Fearing the worst, he closed off the camps, hoping his men would not wreak vengeance upon the local population. A "funeral in the field" was held on April 19th--the same day as the state funeral in the capital--and was the scene of a potentially explosive incident:
"I summoned the senior chaplain of the division, Father Egan, and told him we looked to him for the memorial address, cautioning him to prepare beforehand, not so much what to say, as what not to say. For I knew his Irish warmth and power of speech, and that he might, if not restrained, stir the hearts of the men too much for our control".
(34)
After some solemn music by the First Division's German band, Father Egan rose to deliver the oration:
"The spirit of rebellion against the country's life and honor, he said, incited its followers to murder the innocent and just...He then portrayed the character of Lincoln, his integrity, his rugged truth, his innocence of wrong, his loyalty and lofty fidelity to the people. Then having raised this figure to its highest ideal lights and most endearing attractiveness, he pictured him stricken down by dastard hand in the very midst of acts of mercy and words of great-hearted sympathy and love. Gathering up the emotions of his audience with searching, imploring glance, he reminded the soldiers of Lincoln's love for them, and theirs for him; that brotherhood of suffering that made them one in soul with him."
(35)
As Father Egan went on, some of the men began to pale, and instinctively started to reach for their stacked muskets. Chamberlain, seated near the padre on the platform, knew he had to act quickly:
"...I myself was under the spell. Well that the commander was there, to check the flaming orator. Men could not hear it. You could not, were I able to reproduce the scene. Then the speaker stopped. He stood transfixed. I seized his arm. 'Father Egan, you must not stop. Turn this excitement to some good.' "I will', he whispers. Then lifting his arm full height, he brought it down with a tremendous sweep, as if to gather in the whole quivering circle before him, and went on; 'Better so. Better to die glorious, than to live infamous. Better to be buried beneath a nation's tears, than to walk the earth guilty of a nation's blood. Better, thousandfold, forever better, Lincoln dead, than Davis living.'".
(36)
Chamberlain had defused a dangerous situation, and the funeral ended without further incident.
In the days following the funeral, Chamberlain became something of a "military governor" in the region between Petersburg and Dinwiddie County. During the nearly two weeks he served in this capacity, food was distributed to civilians who would give the "oath of allegiance" to the Union, and to those in need. He also had to restore some semblance of order in the countryside. During this time, a very humorous incident occurred, brought about by the appearance of an unnamed "Belle of Dinwiddie", who was brought in to take the oath of allegiance by Chamberlain's youngest brother Tom, who was serving as Provost Marshal. Evidently Tom had a crush on the young woman--and big brother Joshua was also somewhat dazzled by her beauty!
"...It was a comical sight when in their presentation of the case, they exchanged glances. Her air was that of an injured party, and he the aggressor. At every soft impeachment his color rose to the Jacqueminot".
(37)
After some verbal sparring back and forth between Joshua and the "belle" (whom he described as "the indomitable Portia", for her skill in debating!), she agrees to take the oath. Chamberlain remarks:
"
Our Provost Marshal, who kept our oaths for us, told her of the requirement, asking her to kiss the book in token. To both of these suggestions she opposed a very firm determination. Indeed, considering the aspect of these two respective objects, I would not have blamed her if she preferred to reverse the directions, swear to the book and kiss the officer."
(38)
Alas, the "relationship" did not last for Tom, and no more mention is made of the lady in question. The Fifth Corps, and the rest of the AOP, made its way through Petersburg and Richmond, bypassing the old battlefield at Fredericksburg. While camped near Hanover Court House, a bizarre incident occurred:
"At about midnight, when the tired camp was still, the sentinel in front of my bivouac spoke nervously, saying there was something strange going on about my horse not far away from us. He had been hastily tethered there amidst a little growth of scrubby pines, so near, and the place so quiet, there seemed to be no need of a guard...I rose and went out myself; and before I reached him my foot crushed through the breast-bones of a body half buried by the fallen pine-cones and needles so long undisturbed, now gone back mostly ashes to ashes. I found that the horse, pawing the earth within the scope of his picket-rope, had rolled out two skulls and scattered the bones of bodies he had unearthed, and was gazing at the white skulls as if lost in doubt; now and then snorting to call others to solve the mystery, or swaying at his tether as if to get away himself."
(39)
Charlemagne had discovered the bodies of some long-dead soldiers from a previous battle. These bones were gathered up into old cracker-boxes and taken back with the army to Washington.
THE GRAND REVIEW, MAY 23, 1865
The Army of the Potomac finally arrived in the Washington area on May 12, 1865. The Fifth Corps was assigned a permanent camp on Arlington Heights, near the former mansion of Robert E. Lee. The next several days were spent preparing for a final great review of the armies, plus dealing with the many details and paperwork needed to muster out and transport hundreds of thousands of men. Chamberlain received a most welcome visitor during this time: his father-in-law, the Rev. George Adams, who gave him much-longed-for news of Fannie and the children back in Maine.
On the evening of May 22, a large farewell party was held in the Fifth Corps' First Division camp, to honor General Griffin. Four huge hospital tents had been put together, to accommodate Division officers and their invited guests. For the occasion, Chamberlain had designed, and Tiffany's in New York had created, a pin in enameled gold of a red Maltese cross against a white background--a miniature replica of the Division's flag. The cross was outlined in diamonds, with a center diamond costing about $1000. Chamberlain was chosen by his fellow officers to make the presentation speech, and he pinned the badge to his commander's uniform. Griffin was quite overcome by the honor paid, and simply bowed his thanks to the assemblage.
Not much sleep was had by anyone that night. The Fifth Corps was awakened at 2:00am on May 23, 1865, to get across Long Bridge from Arlington Heights, to be in Washington at 4:00 am. They had to wait several hours for the review to begin for them (they were proceeded by the Ninth Corps, with a division of the Nineteenth; the cavalry; and some smaller, specialized units. The Second Corps would then follow the Fifth Corps, bringing up the rear). Finally, at 9:00 am, the signal gun sounded to begin this, the Last Review of the Army of the Potomac.
"In my command we were well aware of quite an anxiety among officers and men of the army generally to look their very best, and more, too, on this occasion; for new uniforms, sashes, epaulettes, saddle housings and other gay trappings almost disguised some of our hardiest veterans...I hesitate to admit that in the revulsion from this on the part of the officers and men of my division, there might be a scornful pride more sinful than that of vanity...We could not pretend to be better,--proud of our humility...The men brought themselves up to regulation field inspection...their dress and accoutrements clean and bright; but all of every-day identity..for officers no useless trappings, rider or horse; plain, open saddle, with folded gray army blanket beneath; light, open bridle with simple curb and snaffle-rein; service uniform,--shoulder-strap, belts, scabbards, boots and spurs of the plainest,--no sashes, no epaulettes..."
(40)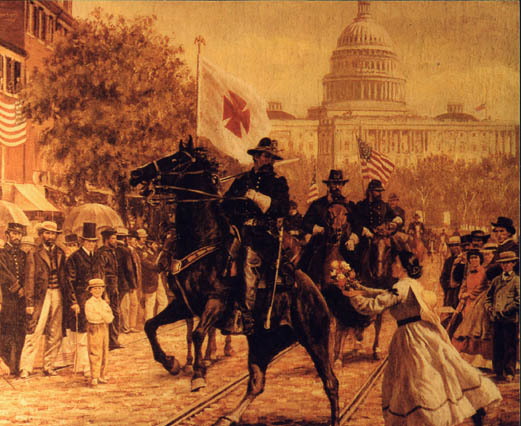 "The Proffered Wreath", by Don Stivers.
Macrophoto of limited-edition art print, taken by Cheryl Pula.
This illustrates an incident that happened to Chamberlain during the Grand Review, described below:
"Now a girlish form, robed white as her spirit, presses close; modest, yet resolute, eyes fixed on her purpose. She reaches up towards me a wreath of rare flowers, close-braided, fit for viking's arm-ring, or victor's crown. How could I take it? Sword at the "carry" and left hand tasked, trying to curb my excited horse...He had been thrice shot down under me; he had seen the great surrender. But this unaccustomed vision--he had never seen a woman coming so near before,--moved him strangely. Was this the soft death-angel--did he think?--calling us again, as in other days? For as often as she lifted the garland to the level of my hand, he sprang clear from earth: heavenwards, doubtless--but was not heaven nearer just then? I managed to bring down his fore-feet close beside her, and dropped my sword-point almost to her feet, with a bow so low I could have touched her cheek. Was it the garland's breath or hers that floated to my lips? My horse trembled. I might have solved the mystery, could I have trusted him. But he would not trust me....All this passed like a flash in act; but it was not quite so brief in effect. From that time my horse was shy of girls--sharp eyes out for soft eyes--I dare say, for his master's peace and safety!"(41)
I can well imagine Chamberlain smiling to himself, as he wrote that...
When Chamberlain came opposite the reviewing stand--where the new President, Andrew Johnson, his cabinet, ambassadors and other dignitaries were situated--he was invited to dismount and watch the review--which he did. As he watched, he saw in his mind's eye not only the living, but the dead.
Here came the First Division, Fifth Corps, beginning with the Third Brigade:
"For me, while this division was passing, no other thing could lure my eyes away...These were my men; and those who followed were familiar and dear. They belonged to me, and I to them by bonds birth cannot create nor death sever. More were passing here than the personages on the stand could see. But to me so seeing, what a review--how great, how far, how near! It was as the morning of the resurrection."
(42)
"These are of the men I stood with at Antietam, and Fredericksburg, and Chancellorsville and Gettysburg. Of that regiment--the 20th Maine--a third were left on the slopes of Round Top, and a third again in the Wilderness, at Spotsylvania, the North Anna, Cold Harbor and the Chickahominy; to-day mingling its ranks the remnants of the noble 2nd and 1st Sharpshooters. Beside it still, the 118th Pennsylvania...More Pennsylvania veterans yet; the storied 83rd and 91st, and brilliant 155th Zouave, and the shadow of the stalwart 91st, gone, and 21st Cavalry passed on. With these the 1st and 16th Michigan...the keen-eyed 1st and 2nd Sharpshooters and proud relics of the 4th, left from the Wheat-field of Gettysburg...the trusted, sorely-tried 32nd Massachusetts, with unfaltering spirit and ranks made good from the best substance of the 18th..."(43)
"Now Gregory's New York Brigade,--the 187th, 188th, and 189th, young in order of number, but veteran in experience and honor; worthy of the list held yet in living memory, the 12th, 13th, 14th, 17th, 25th, and 44th, one by one gone before. (44)
"One more brigade yet, of this division; of the tested last that shall be first; the splendid 185th New York, and fearless, clear-brained Sniper still at their head; the stalwart fourteen-company regiment, the 198th Pennsylvania, its gallant field-officers gone,--brave veteran Sickel falling with shattered arm, and brilliant young adjutant Maceuen shot dead--both within touch of my hand in the sharp rally on the Quaker Road; and Major Glenn since commanding, cut down at the height of valor....leading a charge I ordered in a moment of supreme need..Each of these brigades had been severally in my command; and now they were mine all together, as I was theirs. So has passed this First Division,--and with it, part of my soul."(45)
Chamberlain also watched the passage of the Second Division of the Fifth Corps. Of that division's three brigades, only two regiments were left: the 140th and 146th New York, led by General Romeyn Ayres:
"Where are the regulars, who since 1862 had been ever at our side?--the ten iron-hearted regiments that made that terrible charge down the north spur of Little Round Top...and brought back not one-half of its deathless offering...Their places had been taken by two brigades from the old First Corps..the thrice-honored Maryland Brigade, 1st, 4th, 7th and 8th...and the gallant little Delaware Brigade..."
(46)
Then lastly, the Third Division. Chamberlain sees the 5th, 140th and 146th New York regiments, along with the 15th Artillery; along with commanders such as Henry Morrow (of the famous "Iron Brigade") and Richard Coulter of the 11th Pennsylvania. But he also notices that some are missing:
"But where are my splendid six regiments of them which made that resolute, forlorn-hope charge from the crest they had carried fitly named "Fort Hell", down past the spewing dragons of "Fort Damnation" into the miry, fiery pit before Rives' Salient of the dark June 18th. Two regiments of them, the 121st Pennsylvania...and 142nd Pennsylvania...alone I see in this passing pageant,--worn, thin hostages of the mortal. "
(47)
Chamberlain is so moved by seeing these men--those who fought with him that June 1864 day when he was so badly wounded--that he does something unorthodox:
"...I violate the courtesies of the august occasion. I give them salutation before the face of the reviewing officer--the President himself--asking no permission,--no forgiveness."
(48)
And so it went. At the end of this momentous day, he could not seem to accept that this part of his life was over:
"Have they all passed,--the Fifth Corps? Or will it ever pass? Am I left alone, or still with you all?"
(49)
"The pageant has passed. The day is over. But we linger, loath to think we should see them no more together,--these men, these horses, these colors afield." (50)
The Army of the Potomac was officially disbanded as of June 28, 1865, but Chamberlain remained in camp, chosen as a brigade commander in the new Provisional Corps--it was rumored these "Provisionals" would be sent to Mexico with Phil Sheridan to help the French get their army out of that country. But as things turned out, they were not needed, and Chamberlain returned home to Brunswick in late July 1865--just in time for Bowdoin's commencement. He learned that General Grant was to be visiting Portland at the same time, so he invited his former commander to attend the commencement--causing quite a bit of excitement!
Joshua Lawrence Chamberlain was officially mustered out in August 1865, but applied for reinstatement, due to needed surgery for his Petersburg wound. His reinstatement was accepted, and he was finally mustered out January 15, 1866.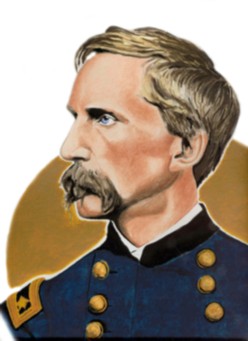 This is a new portrait of Major General Joshua Lawrence Chamberlain, by artist Andy Amato. I thank him again for his wonderful generosity, in letting me use it on my site.
Please do not copy, without express written permission from the artist.
NOTE: This Web site is Copyright © 1999- 2009 Pat Finnegan. All rights reserved.

DO NOT use any written material, or photographs, without first contacting me in writing. If you do not do this, be assured that legal action will be taken.

THANK YOU!
QUESTIONS? COMMENTS? SEND ME AN
EMAIL!