TO THE LIMITS OF THE SOUL'S IDEAL:
BUSINESS AND PUBLIC SPEAKING CAREER
After Chamberlain resigned as Bowdoin's president in 1883, he turned his attention to the business world. He worked out of Florida, New York and Maine, and his business ventures ranged from developing land in Florida, establishing the Ocala and Silver Springs Railroad, and holding stock in, and serving as president of, several companies, including New Jersey Construction, Mutual Town and Bond in New York, and Kinetic Power. His idealism and sense of duty to others were two factors that motivated him in business. Unfortunately, those traits also made him a poor businessman! He made many investments, ranging from orange groves to railroads, but he reaped little financial reward from them. In 1902, his son Wyllys wrote to his mother from Florida:
"Two of Father's companies are coming to the front, three of them in fact, and I hope he will see that he gets something for himself out of them..."
(11)
After about a decade of trying to make a go of it in the business world, Chamberlain gave it up, saying he wanted to put his strength into "good clean work."
The world of business wasn't the only thing occupying Chamberlain during the late 1888's and into the 1890's. For instance, he served as president of the Institute for Artists and Artisans. He described its purpose this way:
"It is conceived and conducted in the spirit of Vital Art, tending toward a National emancipation from servile imitation and dead literalism, as well as from industrial and commercial dependence on foreign peoples for a supply of a fresh and growing demand in this country for high artistic work, in the common arts."
(12)
The Institute was based in New York City, but Chamberlain also established a summer home for it in Maine, in what would become his summer home. It was located at Simpson's Point, on Middle Bay between Mere Point and Harpswell, about four miles south of Brunswick, on the site of an old shipyard. He named his home "Domhegan", after the one of the Indian chiefs who sold the site to the white man. Here he loved to ride his horse "Charlemagne" and sail Middle Bay on his little yacht "Pinafore."
Chamberlain was always looking for ways to serve his fellow man, and the organizations he chose to be involved in reflected that sense of service. They included: military organizations such as the Society of the Army of the Potomac (president), the Grand Army of the Republic (department commander), the Military Order of the Loyal Legion of the United States, the Maine Commandery (department commander)--the last organization he founded in 1869, and the one in which he was most interested.
Chamberlain was also involved in many non-military organizations, besides the Institute for Artists and Artisans. He was always looking for ways to serve his fellow human beings, and the following list reflects that sense of service. They included the American Huguenot Society (vice president), the Alpha Delta Phi fraternity (president), the Chamberlain Association of America (president), the Egyptian Exploration Society, the Philosophical Society of Great Britain, the New England Rhetorical and Genealogical Society, the Egyptian Research, the American Political Science Association, the American Historical Association, the Maine Historical Society, the Colonial Society of Massachusetts, the Webster Historical Society at Boston, the American Geological Society, the American Geographical Society, the American Bible Society (senior vice president), the American Board of Commissioners of Foreign Missions (life member), American National Institute in Paris (a director), the Humane Education Society (vice president), the Maine Institute for the Blind (a director), and the National Red Cross. He wasn't merely content to pay fees and read periodicals--he attended meetings and took an active interest in the organizations. Such activity, however, took a toll on his health; in December 1890, he was taken seriously ill, and confined to his room in New York City.
During this time of illness, the 30th anniversary of the battle of Gettysburg approached, and many of Chamberlain's friends tried to obtain for him some concrete recognition for his outstanding service at Little Round Top. Old comrades such as General Thomas Hubbard and General Alexander Webb wrote letters on his behalf, as did Maine's then-Governor, Henry B. Cleaves. Finally, on August 17, 1893, Chamberlain received what, to many, was a belated "thank you" from the government: the Medal of Honor. The inscription on the back read, in part:
"...for distinguished gallantry at the battle of Gettysburg, July 2, 1863.."
(13)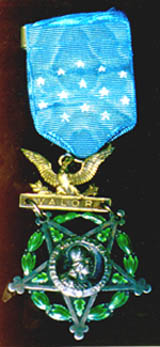 Chamberlain's Medal of Honor, on display at the Hawthorne-Longfellow Library, Bowdoin College, Brunswick, ME.
Photo taken by Cheryl Pula.
This is Chamberlain's actual Medal of Honor, which is in a special section of the Bowdoin College library. I was amazed to see how small it was--and couldn't get over the fact that this was HIS medal!
During his life, Chamberlain also represented his state, and his country, at two important exhibitions. He was invited by Maine Governor Selden Conner (himself a distinguished Civil War veteran) to give the primary address at "Maine Day", during the Centennial Exposition in Philadelphia, on November 4, 1876. He entitled his address "Maine: Her Place in History". It was a long and idealistic speech, but it was also like his gubernatorial addresses: filled with sharp realism as well. In it, he spoke of his native state as:
"...conservative; self-reliant; calm; slow, even, to wrath or novelty. She will lead in a noble cause when convinced; but she is not fanatical, narrow, or self-seeking..."
(14)
Concerned about the state's young people, who were leaving in droves for opportunities elsewhere, Chamberlain wanted his state to emphasize skilled labor, rather than manual:
"Hard labor is a prison sentence; skilled labor is the enfranchisement of man".
(15)
On an idealistic note, he envisaged a time, when:
"...in the revolutions and evolutions of history the shore of this Gulf of Maine will be the seat of industrial, social, and political empire, even beyond the early dreams; for it will be an empire where no despot either of politics or traffic, shall make merchandize of souls, but where MAN, in making himself master, makes all men free!"
(16)
The address was very well received; many people thought it was the most significant of all those delivered! Chamberlain was invited to give the same speech before the Maine State Legislature in February, 1877, and it was later published as a state document.
On the international scene, Chamberlain attended the 1878 Paris Exposition, as United States Commissioner of Education, appointed by President Rutherford B. Hayes. He took Fannie and his now-grown children with him, and they stayed in Europe for nearly five months, beginning in June 1878. In a way, it was the fulfillment of that European trip he'd given up, to go to war in 1862. They first visited Britain, and then took a house in Paris, so they could travel around the Continent. (He also had to raise a lot of money to finance such a long trip!) There were exciting moments to remember, such as the grand ball held in the Palace of Versailles' Hall of Mirrors; here Chamberlain danced with his daughter Grace. A far cry from his youth in Maine, when just looking into a ballroom was considered sinful!
But Chamberlain also had serious duties to perform. He got permission from the French authorities to do research on the French occupation of Maine in colonial days, by going through France's public libraries and archives. He also prepared for the U.S. government a report on educational systems, as shown in the educational exhibits at the Exposition, with a particular emphasis on France. His inspection ranged from nurseries to scientific museums. In his report, Chamberlain saw that the Europeans were more progressive in their educational systems than the U.S., especially in making education compulsory and "neutral" in religion. He saw that in Europe, education was primarily in the hands of men, whereas in America it was just the opposite: women had taken over. He wrote:
"..there is a just mean somewhere...But it will probably remain true that the reserved force and the power to command and to deal with masses, which is characteristic of manhood, will be deemed an essential factor in the proper discipline of youthful character, and the successful administration of schools on any considerable scale.:
(17)
He saw the U.S. as ahead in the education of girls, and also thought that schools and colleges in the U.S. were "far behind" in the study of political ad social science:
"Nor can there be any branch of the 'humanities' more important or more urgently demanded by the times than the knowledge of the facts, the forces, and the laws by which civilization advances, and man emerges from the brute."
(18)
He also liked the way Europeans gave attention to adult education, saying:
"More of this sort could be done in our higher schools of learning. The college should not only be a place where a student can get an education; it should be a light set on a hill, to shine into the dark places before it."
(19)
For his efforts, Chamberlain received a bronze medal from the French government, and the compliments of John D. Philbrick, director of the Educational Exhibit of the United States.
NOTE: This Web site is Copyright © 1999- 2009 Pat Finnegan. All rights reserved.

DO NOT use any written material, or photographs, without first contacting me in writing. If you do not do this, be assured that legal action will be taken.

THANK YOU!
QUESTIONS? COMMENTS? SEND ME AN
EMAIL!