TO THE LIMITS OF THE SOUL'S IDEAL:
BOWDOIN COLLEGE STUDENT
In February, 1848, Chamberlain and his Latin tutor, William Hyde, headed off to Bowdoin College. After a lengthy examination by a committee of learned professors, he was told he passed all the entrance requirements, and was admitted--much to his relief!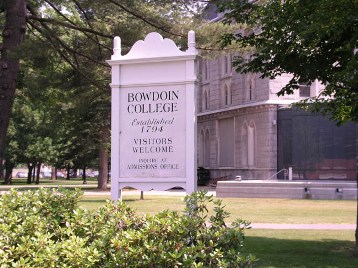 Here's a sign, near the entrance of the Bowdoin College campus.
Photo by David Williamson.
Do not use without his express written permission.
As an incoming freshman student, Chamberlain presented a rather mild-looking appearance -- which somehow spared him any heavy-duty hazing by Bowdoin upperclassmen. Except, however, for one occasion: a 'smokeout' in his room, on the fourth floor of Maine Hall. A group of sophomores sealed his room and filled it with so much tobacco smoke that the room lamp looked like, in Chamberlain's words:
"...like a red moon on a foggy night". (3A)
The young Chamberlain somehow managed to outlast that particular college-age prank.
At first, Chamberlain's student days were somewhat lonely: he didn't hear much from his family in Brewer, and the late start did put him at a disadvantage in forming new friendships. But over time, he managed to find some other kindred souls, who took their Christian faith as seriously as he did. And even though he wanted to be liked by his classmates, Chamberlain established his own personal behavior standards, and he declined to get involved in some of the more foolish undergraduate goings-on. Because of this stance, he did find himself lonely on occasion. But over time, Chamberlain gained the respect and admiration of his Bowdoin classmates. He passed his freshman final exams, and headed back home to Brewer for the summer vacation.
When his sophomore year began, Chamberlain found himself hard at work, and learning good study habits. As he went over some of his class weaknesses, he decided he needed to overcome his lack of strength in mathematics--sometimes in all-night sessions, as he fought his way through various complex problems. He seemed to have a much easier time in French, thanks to the instruction of Professor Daniel R. Goodwin. He helped Chamberlain to see into the nature of languages--which eventually led the latter to become fluent in several.
For his Rhetoric class, Chamberlain finally was able to read a novel: "The House of Seven Gables", by Bowdoin graduate Nathaniel Hawthorne. Back home in Brewer, Chamberlain was forbidden to read such books. For some reason, novels were considered immoral. Not even adventure stories such as James Fenimore Cooper's "The Deerslayer" escaped prohibition. Strangely enough: poetry did not fall under this parental ban. Before Chamberlain entered Bowdoin, he could freely quote from the poetry of Lord Byron. And if his parents had managed to read some of the English writer's more romantic verses, it might well have suffered the same fate as those 'immoral' novels!
During Chamberlain's sophomore year, his classmates and others had begun calling him "Jack". That really pleased Chamberlain. He felt it was an indication that they really liked him. As the year went on, he found himself confronted with making more personal behavior choices, which were sometimes difficult. For example, he decided not to drink at all while at Bowdoin, even though that 'occasional glass of cider' had not been prohibited at home. He feared that complications might arise, however, if he decided to drink with one friend, but not with another, depending on the circumstances. When Chamberlain thought the matter over, he decided it was better for him to abstain from drinking altogether, but without displaying any sort of 'holier-than-thou' attitude about it.
These choices, however, didn't protect Chamberlain from the consequences of imbibing too much of the aforementioned cider. One day, Chamberlain and a few classmates, driving a hayrick pulled by two horses, set out to find the customary 'class tree', which would be planted along the border of Bowdoin's campus. That 'perfect tree' could only be found about two miles from Brunswick. And many in the student party (but not Chamberlain) had helped themselves along the way to some 'private refreshments' stores of cider. Their wagon careened wildly around corners in every town on the return trip, colliding with horses, carts and dogs ...and scaring the citizenry out of their wits. Worse, though, was the impudent and drunken behavior shown to more sober citizens by the students -- which eventually made its way back to the Bowdoin faculty. These students were in a lot of trouble now!
The following day, after interviewing several of the culprits (and getting nowhere with their answers), Bowdoin President Leonard Woods summoned Chamberlain to his office. The young man left a solemn group of his fellow students in his room -- at least, those who had sobered up enough to be there. Even though Chamberlain had done his best to discourage the other students' outrageous behavior, his classmates knew that 'their Jack' would neither lie about the incident, and nor would he betray them. Chamberlain did admit to being on the hay-wagon. But Woods didn't believe that Chamberlain had anything to do with what he called the 'disgraceful occurrences'.
Chamberlain agreed with that. But, when he was asked who the guilty students were, Chamberlain refused to divulge names, saying he had 'contentious scruples' about doing so. Woods dismissed Chamberlain's reasons, saying they displayed a "false sense of honor", and he thereupon suspended Chamberlain from the college.
Chamberlain accepted the punishment. But he also protested that he believed that to betray his friends would make him
"...an informant - a betrayer of confidence, which is much like a traitor". (3B)
Even if this stand came from a mistaken, not false, sense of honor, it should be respected. He argued, he said, since
"....confidence between man and man is one of the lessons which the college should inculcate." (3C)
Usually, when a student was suspended, it was considered a disgrace, with the perpetrator eventually suffering parental wrath. But Chamberlain told President Woods that he didn't think that would be the case. He told Woods that
"....I know well my father will be proud to see me coming home for this, more so than I shall be to return here again". (3D)
Thereupon, Chamberlain was dismissed, and he returned to his waiting classmates. When he saw his friends, he declared that he was
"....going home boys, there's no help for it". (3E)
The offending students decided that "Jack" shouldn't suffer for their misdeeds, and they would at least own up to the public drunkenness. Woods, for his part, was moved by both Chamberlain's arguments, and by the belated confession of the offenders -- the result of which was that all of them were let off with a reprimand by the lenient Woods.
Towards the end of his sophomore year, Chamberlain became one of Professor Goodwin's library assistants -- a reward for his high rank in the Department of Modern Languages. This post gave Chamberlain the privilege of a social relationship with Goodwin and his family. He also became close friends with the son of another Bowdoin professor, Alpheus Packard, and this gave him another family whose social invitations brightened the long study weeks, religious meetings, and other duties, when Chamberlain missed the love and fellowship of his family and friends back in Brewer.
In the summer of his sophomore year, Chamberlain enjoyed teaching a Sunday School class on Sabbath afternoons. He would walk two miles out on the Bath Road to a little yellow schoolhouse. The end of August brought the college year to a close, with a three-week vacation, and Chamberlain's return to Brewer.
Before the beginning of his junior year, however, Chamberlain was struck down with a mysterious illness, which caused him to run a very high fever. The family's doctors did not know what caused it, and things got so serious that they virtually gave him up for dead. His mother, however, refused to accept their diagnosis, and brought in a homeopathic physician instead, who managed to bring the fever under control, thus taking Chamberlain out of danger. He was aided in his recovery by his mother and his teenage sister, Sarah (called "Sae" by the family), who nursed him patiently back to health. But the long illness caused Chamberlain to miss his entire junior year, and he went back to Bowdoin a year behind his classmates.
While at Bowdoin, Chamberlain kept secret a condition that had plagued him since childhood: a stammer, which would occur when he used words beginning with "t", "p" or "b". He was very sensitive about this disability; he was terrified of having to speak in class, for fear of running into a word beginning with those dreaded letters--to say nothing of introducing friends whose names began with those letters! At first, he would scan ahead to prepare himself for any dangerous words, in case he was called on. Or, he would use synonyms, but he felt they sounded stupid. In the end, he discovered two ways to conquer his stammer. One way, he said, was to:
..."get a good breath behind it, and turn on the will."
(4)
The second method Chamberlain discovered quite by accident. He found that, when he sang in the First Parish Church choir, he did not stutter! As he explains:
..."such a condition was intolerable. It was not a thing to be avoided, but to be overcome...the thing now was to "do it". If you are coming to something which you can't speak, persuade yourself you are going to sing...feel the emotion of it, and that will bear you on its motion...it is not necessary to do this so badly and unskillfully as to draw the attention of your hearers from the things you are saying to the way you are saying them...anything that is worth saying, is worth singing."
(5)
In using these two methods of his own invention, Chamberlain overcame his stammer--and became an accomplished and elegant speaker. By the time he graduated from both Bowdoin College and Bangor Theological Seminary, Chamberlain was fluent in nine languages: Greek, Latin, Hebrew, Syriac, Arabic, French, Italian, Spanish, and German. He also picked up Mohawk (learning it from the Indians that camped on his father's farm) and an obscure one called OLD NORSE!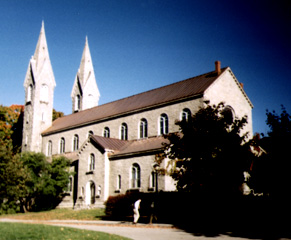 Bowdoin College Chapel, Brunswick, ME.
This is a landmark on the beautiful Bowdoin College campus; Cheryl and I visited it on a lovely day in October 1997. As we sat in the darkened interior, I looked at the organ in the sanctuary, and smiled as I pictured the young Chamberlain as a student, teaching himself to play the instrument. He became so good at it that he became chapel organist!
Chamberlain's years as a Bowdoin student were filled with studies and other activities. Besides Latin and Greek, he mastered Italian and German; he also studied chemistry, physics and mathematics. In his senior year, he was elected to Phi Beta Kappa, and belonged to the Peucinian Society--Bowdoin's oldest literary society--and Alpha Delta Phi social fraternity, and another literary society called "The Round Table". He also studied Hebrew literature in the class of the new Professor of Natural and Revealed Religion, Calvin Stowe--whose wife was the soon-to-be-famous Harriet Beecher Stowe. She would hold "Saturday Evenings" for a group of friends, mostly young (and including Chamberlain) in her home, and read the newest installment of her latest work: "Uncle Tom's Cabin".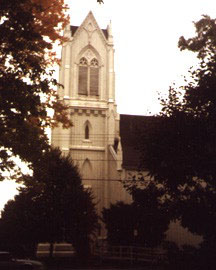 First Parish Church, Brunswick, ME.
This is a lovely place, situated near the Bowdoin College campus. Cheryl and I got a couple of chances to visit inside; it's a beautiful Gothic design, with lots of wood and stained glass. We went up into the choir loft--I could well imagine the young music-loving Chamberlain, conducting the church choir here.
It was here, at First Parish Church, that Chamberlain first set eyes on the pretty, dark-haired Frances Caroline Adams--known to friends and family as Fannie. She was the adopted daughter of First Parish Church's pastor, the Rev. George Adams; Fannie had been born and raised in Boston, but was sent at a very young age to live with her father's nephew and his wife. Chamberlain fell head-over-heels in love with Fannie, a very well-educated young woman herself, skilled in both music and art. She was also very strong-willed and rather fond of "fancy things", like elaborate clothes and furs. It was not an easy courtship: it seemed at times that Dr. Adams didn't think that Chamberlain was "good enough" for his daughter, although that would change with time. There also seems some indication that Fannie did not have the same strong feelings towards Chamberlain as he did towards her. It also seems she was even considering a platonic marriage, after the couple finally became engaged in the fall of 1852.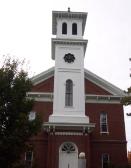 This is the Chapel at the Bangor Theological Seminary campus. Chamberlain would have attended services here, and probably passed by it numerous times during his student days.
Photo taken by Betsy Roche, and used with her most kind permission.
Do not copy without her express written permission.
They agreed to marry after Chamberlain's graduation from Bowdoin, and after he completed three years of study at Bangor Theological Seminary. Plus, Fannie herself would be gone; she spent the three years of their engagement in Milledgeville, Georgia, teaching voice at a girls' school, giving private piano lessons and playing the organ at a Presbyterian church.
Interior view of the Chapel at Bangor Theological Seminary.
Photo sent by Betsy Roche, and used with her most kind permission.
Do not copy without her express written permission.
Fannie returned from Georgia in August 1855, in time to see her fiancé graduate from Bangor Theological Seminary, and take his Masters' Degree from Bowdoin (he'd received his Bachelor's Degree in 1852). He was also invited to give the Masters' Oration at Bowdoin's commencement in 1855. The speech, entitled "Law and Liberty" was a resounding success--a decidedly marked contrast to his first public speech at his 1852 graduation! At that particular ceremony, the combination of excitement, the presence of distinguished guests (including Fannie), and no text to read from caused his stammer to threaten to return:
..
."in the middle of the speech he nearly fainted; recovering, he paced the stage speaking in extemporaneous phrases, concluding in a straight-out, forced delivery, his face crimson. He was 'glad to get out of town' afterward, he said..."
(6)
Thankfully, his "Law and Liberty" ovation produced much better results!
In the wake of the success of the speech, Chamberlain was offered part of the work in the Department of Revealed and Natural Religion at Bowdoin (Professor Stowe was leaving to take another post at Yale). When the next term opened at Bowdoin, he was an instructor in Logic and Natural Theology and, as tutor, was in charge of Freshman Greek. A modest beginning to his career, and respectable enough.
Chamberlain and Fannie were finally married on December 7, 1855, at First Parish Church by Dr. Adams, despite Dr. Adams' deep reservations about the marriage (although he now regarded his new son-in-law with affection). The newlyweds were ecstatically happy. In October 1856, Fannie gave birth to their first child: a daughter they named Grace Dupee. In November 1857 she gave birth three months early to a son, who only lived a few hours; it was a very sad Thanksgiving in the Adams house that year. But in October 1858 another son was born; after some anxious moments, the boy grew healthily and was named Harold Wyllys. Two other daughters would be born--Emily Stelle in the spring of 1860, and Gertrude Loraine, born in the fall of 1865, but both would die before their first birthdays.
NOTE: This Web site is Copyright © 1999- 2009 Pat Finnegan. All rights reserved.

DO NOT use any written material, or photographs, without first contacting me in writing. If you do not do this, be assured that legal action will be taken.

THANK YOU!
QUESTIONS? COMMENTS? SEND ME AN
EMAIL!