I am sending out a special appeal to my visitors.
Due to extreme financial need, I must sell one unframed Chamberlain art print. It is described below: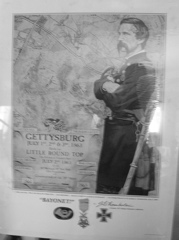 "Joshua Lawrence Chamberlain" by Tom Gallo (He is a Pennsylvania-based artist. I met him at Cedar Creek in October 1998.)
Size: 23.5" wide x 32" long
The print has a colorized image of Chamberlain, based on the photo of him as a Lt. Colonel. The shoulder straps show full Colonel's eagles. He stands to the right of the viewer.
Behind him is a tan/gold-colored 'parchment' map of the order of battle for the fight for Little Round Top, showing the various regimental positions.
Beneath the image is Colonel Strong Vincent's final order to Chamberlain, on July 2, 1863: "I place you here. This is the left of the Union line....you understand....you are to hold this ground at all hazards!"
Beneath the quote is the word ''BAYONET!", with a facsimilie of Chamberlain's signature. Under this are displayed photos of (left to right): a 20th Maine cap badge, Chamberlain's Medal of Honor, and a red First Division, Fifth Corps badge.
The print is still wrapped in protective wrap, mounted on a sturdy board.
Asking $160 (price includes shipping). Will consider any reasonable offer.
If anyone is interested in purchasing the print, please email me, or call me at (315) 454-8423 as soon as possible.

THANKS!