TO THE LIMITS OF THE SOUL'S IDEAL:

PAT'S FAVORITE LINKS
"In Great Deeds, Something Abides...."
Here is a wonderful portrait of Chamberlain, sent to me by artist Paul Martin, of "Silent Sentinel Studio". I thank him, for his incredible generosity. Please do not use without his expressed written permission.
JOSHUA CHAMBERLAIN LINKS

YANKEE BELLE'S CHAMBERLAIN PAGE- Lisa Andrews (aka the "Civil War Belle") has created a very moving tribute to Chamberlain. She obviously admires the man.
PEJEPSCOT HISTORICAL SOCIETY- This is THE place for research on Chamberlain! Whether you're doing a serious term project, or are looking for the right JLC-themed gift, this is the place to go.
TOM CHAMBERLAIN: MY BRAVE YOUNG BROTHER- Rosemary Pardoe, of Chester, England, has written an excellent essay on Chamberlain's youngest brother, Tom, who served with Chamberlain in the 20th Maine. She also has pages on two less-well-known brothers of famous Civil War figures: Tom Custer, sibling of General George A. Custer; and John Oates, brother of Colonel William C. Oates, of the 15th Alabama--Chamberlain's main opponent at Little Round Top. A very well researched, and most entertaining Web site.
THE 'OFFICIAL' JOSHUA CHAMBERLAIN HOME PAGE-This site leads you to the Brewer, Maine, Historical Society.
LETTER TO PRESIDENT ABRAHAM LINCOLN, RECOMMENDING THE PROMOTION OF JOSHUA L. CHAMBERLAIN TO THE RANK OF BRIGADIER GENERAL: This link was sent to me as a birthday present, from a gentleman on the former "Military History Online" Message Board. He found it on the National Archives' Web site. I almost dropped dead, when I saw this with my own eyes!
20TH MAINE VOLUNTEERS: This site, created by Tony Cassista, has a wealth of links to various 20th Maine reenacting units around the country. Take a look at one company's visit to the Maine State Museum in Augusta, where they saw the 20th's national colors, that were flown at Gettysburg.
JOSHUA'S RESTAURANT & TAVERN: While not 'strictly speaking' a site about Chamberlain himself...this is a really cool place to eat, if you're ever visiting the General's home in Brunswick, ME. It's both a pub and a sit-down type of restaurant, and the latter is decorated with pictures and period newspaper stories about Chamberlain.
JOSHUA L. CHAMBERLAIN CIVIL WAR ROUND TABLE: I can't believe I haven't listed this site on my Favorites page earlier.... This Civil War Round Table, founded in January 1986, has hosted many well-known Civil War historians and authors, from Professor James I. Robertson to Gettysburg battlefield park historian Scott Hartwig, to the late Brian Pohanka.
If YOU have created your own Joshua Chamberlain Web site, I'd love to take a look at it, and link it to this page! Please
email me
your site URL, and I will let you know how it looks.
CIVIL WAR ARTIST LINKS:
MARK MARITATO: An excellent up-and-coming Civil War artist - one that actually specializes in Federal Civil War subjects, particularly those relating to the 14th Brooklyn regiment.
CIVIL WAR ART BY CIVIL WAR ARTIST KEN HENDRICKSEN: This very talented artist from Maine graciously allowed me to use his various portraits of Chamberlain on my site. Take a look at his excellent non-Civil War artworks.
SILENT SENTINEL STUDIO, ART OF AMERICAN HISTORY: This site belongs to artist Paul Martin. He contacted me recently, to ask my input on the portrait of Chamberlain above. I was honored to be consulted, to be sure. Check out his work: it's very unique American historical art, with a touch of mysticism. And take a look at his 9-11-01 commemorative work, with the quote by Chamberlain.
CIVIL WAR PORTRAITS - ART BY ANDY AMATO: This Civil War art site displays art by Boston-based artist Andy Amato. He graciously allowed me to use his portrait of Chamberlain on my site. He works in the Giclee medium, so his portraits become almost three-dimensional.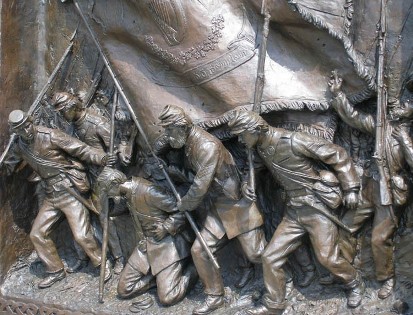 This is an awesome detailed look at the three-dimensional sculpture on the "Irish Brigade" monument at "Bloody Lane" at Antietam. The sculptor, Ron Tunison, did a magnificent job!
Photo by David Williamson.
Do not use without his express written permission.
OTHER CIVIL WAR-RELATED LINKS:
FIFTH NEW YORK, DURYEE'S ZOUAVES, CO. A-One of the best-looking and most-informative Civil War sites I have ever seen. It has a great Picture Gallery, and tons of information for research. The Fifth New York was the unit led for many years by the late Civil War historian Brian Pohanka.
THE 20TH MAINE:-A fantastic place for Civil War enthusiasts to shop! Located in Freeport, Maine, the business is owned by Pat and Ron Hodgdon, and they stock all sorts of Civil War-themed books, tapes, clothing, gifts and artifacts. (NOTE: As of June 30, 2006, the phyiscal 20th Maine shop is closed. It continues after that, however, as an online catalog.)
CIVIL WAR INTERACTIVE-This site calls itself "The Daily Newspaper of the Civil War'-and it's absolutely true! You'll find everything from trivia contests to the most recent Civil War-related news. Check out their great "LinksCentral" page--which lists this site.
THE WILD GEESE: ERIN'S FARFLUNG EXILES-The place to go for Civil War history related to Ireland. Also has great non-Civil War Irish history links.
IRISH BRIGADE ASSOCIATION-"FAUGH-A-BALLAGH"! (For those who don't know Gaelic, the phrase means "Clear the Way!") The place to go for information on the famous Irish Brigade.
REENACTORS' MISSIONS FOR JESUS CHRIST-Lynchburg, VA-based evangelist Alan Farley has created an excellent site that deals with the role the Christian faith played in the Civil War, and his present-day ministry among Civil War reenactors.
J.D. PETRUZZI'S "BUFORD'S BOYS" SITE: My friend J.D. Petruzzi has put together an excellent Web site about General John Buford and his cavalry. Lots of info about the Gettysburg Campaign, plus bios of Buford and his subordinates--and so much more. (NOTE: J.D. has had to take down some of the bios of Buford's subordinates, due to Internet hacking. And he's not happy about it.)
155TH NEW YORK VOLUNTEER INFANTRY: This living-history unit, based in the Buffalo/Rochester, NY area, portrays a company of the 155th New York--a regiment of Colonel Michael Corcoran's "Irish Legion".
PATRICK SCHROEDER PUBLICATIONS: This is a great site for Civil War books, created by a living-historian (and wonderful friend), who is currently Park Historian at Appomattox Court House NHS. Focus is primarily on Appomattox, and the 5th New York, Duryee's Zouaves. Also check out his Brian Pohanka memorial page. Patrick was a long-time friend and reenacting comrade of Brian's.
COLUMBIA RIFLES: This is a campaign-style reenacting unit, composed of members from New York, Pennsylvania, Ohio, and southern Ontario, Canada. Webmaster Kevin O'Beirne has put together everything you need to know about being a "campaigner".
THE AMERICAN CIVIL WAR IN POETRY AND PICTURES: Bubs and Judy McKeag have put together a beautiful site, consisting of original poetry, and gorgeous pictures of Gettysburg.
CASSIE & TOM'S GETTYSBURG TRIPS: This site was created by a couple from New Jersey, who absolutely love Gettysburg, and just want to share their special photos. They make several trips to Gettysburg a year, and always add their new photos afterwards.
BOB KOCH'S US CIVIL WAR SITE: Mr. Koch has created a site full of everything you can think of about the Civil War.
A CIVIL WAR TRIBUTE: This is a new Civil War reference site, recently sent me by a gentleman named Tony Rosati, Sr.. Check out the Chamberlain page--lots of interesting photos here.
CIVIL WAR ROUNDTABLE OF NEW HAMPSHIRE: This site, created by Webmaster Bill Hallett, describes New Hampshire's contribution in the Civil War.
THOMAS EISHEN: This gentleman, who lives in Texas, recently found my Web site, and liked it. So much so, he asked me to put a link to his new site on mine. After looking through his beautiful photos of Gettysburg, how could I refuse?
LIFE STORIES OF CIVIL WAR HEROES: Here is an awesome and very personal Web site, created by an individual named "1st Dragoon'. It contains not only detailed biographies of several Civil War figures (including Joshua Chamberlain), but also pages about World War I poetry. Make sure you check out the very moving tribute to the late Brian Pohanka -- who contributed many quotes and images to the site's creator.
'TO MAKE MEN FREE" AND 'NO GREATER COURAGE" -- BOOKS BY RICHARD CROKER: The author recently emailed me, to compliment me on the site, AND to let me know of an error I'd made in my research. For which I thank him, very much! He's written what he describes as two "Historical UNfiction" novels: the first on the battle of Antietam, and the second about the Battle of Fredericksburg.
CIVIL WAR TOP 100: This is a site I was made aware of very recently. It's run by a Civil War gaming enthusiast named Brett Schulte, and you can submit your own Civil War-related Web site for inclusion on the list. The rankings change by the day.
UNITED STATES CHRISTIAN COMMISSION CIVIL WAR MUSEUM: This new museum, located in Gettysburg, PA, tells the inspiring stories of the work of the U.S. Christian Commission during the Civil War. It's located on Baltimore Street, near 'The Square", and was the birthplace of Jennie Wade, the only Gettysburg civilian killed during the battle. A Marine Reservist named Jason Beall works at the museum, and had written me requesting information about JLC's brother, John Chamberlain, who worked with the Christian Commission during the war. After looking about this wonderful museum's site, how could I not put a link up for it?
NORTH LAKE COUNTY FLORIDA CIVIL WAR ROUND TABLE: This Web site is from a very cool Civil War Round Table in central Florida. My good friend (and staunch Chamberlain admirer) Bobby Grenier is the Webmaster, and a very active member to boot! Check out his Chamberlain page.

PAT'S OTHER SITES OF INTEREST:

SIR MARTIN GILBERT ONLINE: This is the Web site of one of Britain's best-known modern historians. Sir Martin is Sir Winston Churchill's official biographer, and author of numerous books about Britain's great World War II statesman. Churchill, by the way, was a keen student of the American Civil War. Sir Martin is also the author of many books on World Wars I and II, the Holocaust, and modern Israel. And to top it all off: he's a very gracious and approachable gentleman--and has patiently answered my various queries about Mr. Churchill!
FIND A GRAVE: This is probably one of the best-known sites on the Internet, especially for those who enjoy seeing the graves of the 'famous' from around the world! There is a listing for Joshua Chamberlain's grave in their database, where you can see photos of his grave taken by contributors, or leave 'virtual flowers' and a note. (NOTE: On the "Non-Famous" graves database, you can also leave 'virtual flowers' and a note for the late Brian Pohanka.)
SHIP OF FOOLS: This Web site, based in the UK, calls itself the "Magazine of Christian UNREST". It has both thought-provoking -- and sometimes very hilarious! -- stories and pages, featuring that very dry British humor. Check out the "Signs and Blunders" pages, and the monthly "Caption Competition" page.
"HELLFIRE CORNER": TOM MORGAN'S GREAT WAR WEB PAGES: Webmaster Tom Morgan, based in the UK, has created a wonderful World War I web site, containing first-hand accounts of WW1 vets, travel tips on visiting WW1 battlefields in France and Belgium--and so much more.
THE MAPLE LEAF LEGACY PROJECT: Webmaster Steve Douglas is putting together a "Millennium tribute" to Canada's war dead, by creating a "Virtual Canadian National War Cemetery". He and his army of volunteers are attempting to photograph every grave of every Canadian soldier, wherever they are buried. And Steve's always looking for new photography volunteers....
NOTE:
This Web site is a personal work , and a means for others to learn about Joshua Lawrence Chamberlain, and the Civil War. I do not endorse the commercial links on any of the above-linked sites. I include them because of their JLC content, or their Civil War/historical content.
I do not claim to be an expert on Joshua Chamberlain; I welcome any comments from visitors, and enjoy talking with them about this great man.
Please email me. Thanks!
NOTE: This Web site is Copyright © 1999- 2009 Pat Finnegan. All rights reserved.

DO NOT use any written material, or photographs, without first contacting me in writing. If you do not do this, be assured that legal action will be taken.

THANK YOU!
QUESTIONS? COMMENTS? SEND ME AN
EMAIL!